Parents in Uvalde Demand Sweeping Changes and Resignations During School Board Meeting
Hundreds of parents and community members packed into an auditorium at Uvalde High School to push for the firings of those involved in the shooting response.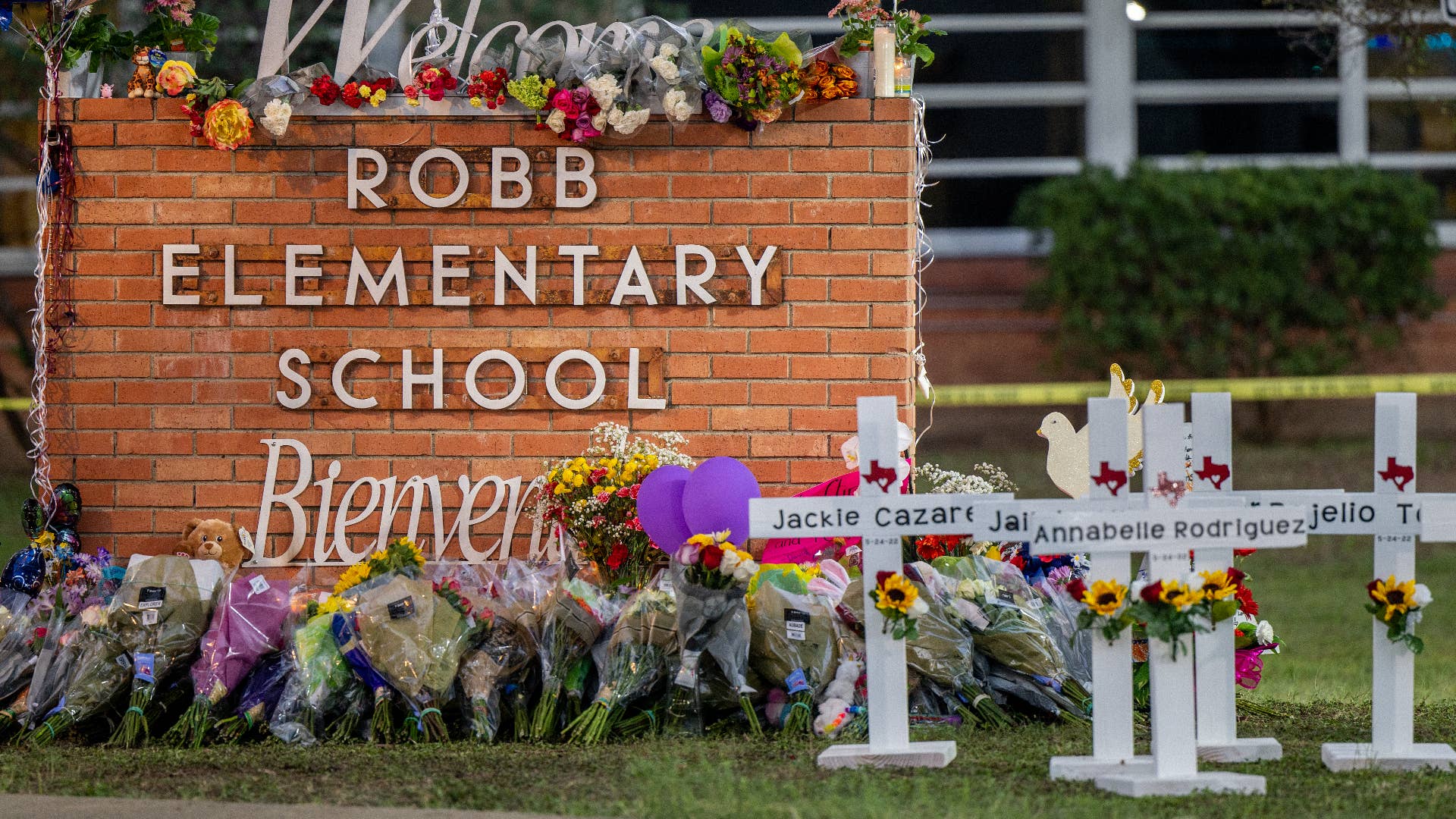 Getty
A memorial is seen surrounding the Robb Elementary School sign following the mass shooting at Robb Elementary School.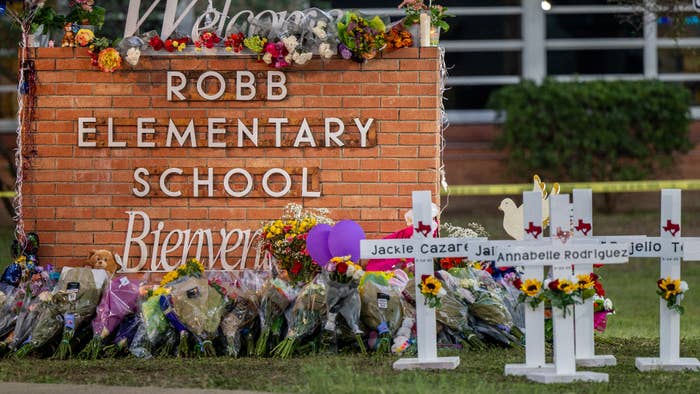 Several parents and residents from Uvalde, Texas urged the school board to "clean house" during an emotional meeting Monday night amid the latest reminder of the failures of law enforcement officials in response to the Robb Elementary School shooting that left 19 children and two teachers dead.
The Austin American-Statesmanreports that the outcries included the firing of Uvalde school district police chief Pete Arredondo, who is currently on administrative leave, and five additional district officers, as well as the dismissal of superintendent Hal Harrell and Robb Elementary principal Mandy Gutierrez.
This comes on the heels of a report recently released by the Texas House Investigative Committee. It concluded there were "systematic failures and egregious poor decision making" across the board. Hallway footage of the May 24 shooting shows an utter lack of urgency among officers, many of whom can be seen wearing protective gear, in taking down the gunman. "They failed to prioritize saving the lives of innocent victims over their own safety," the report said of law enforcement officials. 
The committee also discovered that the door used by the gunman to enter the school had a damaged lock, and instead of trying to get it fixed, employees would prop the door open. School policy requires that all outside doors be locked, but none of the three doors were at the time.  
"Why do you continue to employee these officers?" said Rachel Martinez, who has four kids attending school in Uvalde. "And then we will have to return our children to you for eight hours a day, five days a week. … You need to clean house and start from zero. This failure falls on all of you."
According to NBC News, Brett Cross, the uncle of 10-year-old Uziyah who died in the shooting, demanded the resignation of Harrell and all board members by noon today. "I am disgusted with your leadership," Tina Ann Quintanilla-Taylor, mother of Mehle, 10, who lost her best friend Rogelio Torres, said at the meeting. 
Board president Luis Fernandez assured everyone that "accountability will definitely be at the top of our list."