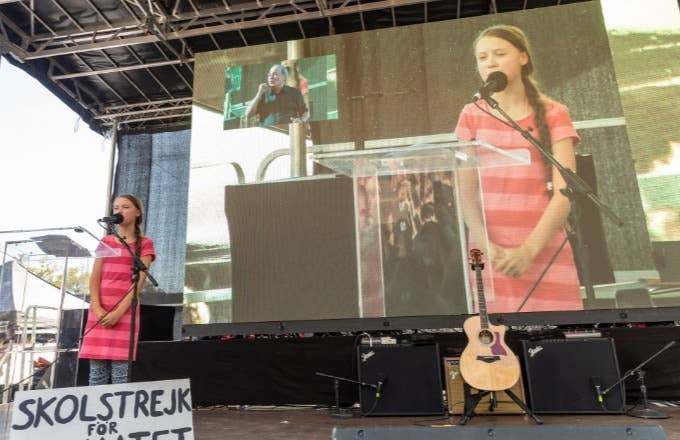 A certain POTUS famously known for doing virtually nothing to combat the effects of climate change, much less the effects of his own presence in the White House, decided to join so-called conservatives' campaign of detraction against teen climate activist Greta Thunberg early Tuesday.
Thunberg, as recent weeks on the international stage have shown, has become one of the most public faces of younger generations' united efforts aimed at the betterment of a planet that's undeniably suffering thanks in large part to the damage wreaked by those who most staunchly stand in the way of impactful climate change action.
As Thunberg continues to inspire burgeoning activists both young and old, we decided to take a look at the core components of her ongoing campaign for environmental justice. Additionally, we broke down how her activism has garnered the support of other leaders on the issue, as well as pointed out the troubling methodology used by those aforementioned detractors.
Below, get schooled by way of a selection of four things we feel you need to know about the young activist.
Her parents are also involved with environmental activism.
The artistic endeavors of the Thunberg family are well-documented and include the acting/directing career of grandfather Olof Thunberg, with her parents also boasting prominent theatre presences in their own right. Mother Malena Ernman is a respected opera singer and actress. Her father Svante Thunberg, meanwhile, is a writer/actor/producer with credits including the Swedish TV drama Skärgårdsdoktorn. Her sister Beata is a singer.
Next May, a book co-authored by Malena, Svante, Beata, and Greta titled Our House Is on Fire: Scenes of a Family and a Planet in Crisiswill be released. Per a Penguin Books website description, the book recounts the story of how the family was "led to confront a crisis they had never foreseen."
Her activism has inspired the Fridays for Future initiative, as well as garnered the attention of leaders around the world.
Back in August 2018, Greta Thunberg enacted a protest by sitting in front of the Swedish parliament each school day for three consecutive weeks. Thanks to her social media posts on these solo demonstrations, the #FridaysForFuture and #ClimateStrike hashtags took hold and eventually blossomed into what is now a global push for leaders to take action.
In the months since, Thunberg has shared her path to activism via appearances in Time magazine and in the VICE documentary Make the World Greta Again. She's also spoken at the United Nations Climate Summit, a youth-led protest march outside the White House, and more.
She's inspired Republicans to again show their character, with multiple instances of adults publicly bullying the 16-year-old activist.
As mentioned above, Trump—who is, by all accounts, a 73-year-old man—publicly mocked Greta Thunberg on Twitter. Thunberg took this idiocy in stride, flipping the meaning of Trump's exact comments by placing them in her Twitter bio.
Also on the Trumpism side of this ideological war, Fox News host Laura Ingraham called Thunberg and other young activists "brainwashed" and said their parents "should be brought up on charges of child abuse." She also compared them to the Stephen King tale Children of the Corn. These comments drew the condemnation of her own brother, with Curtis Ingraham saying Monday night that he can "no longer apologize for a sibling who I no longer recognize."
More notably, she's inspired widespread support from others actively calling for climate change action.
Earlier this month, former POTUS Barack Obama called Greta Thunberg "already one of our planet's greatest advocates" and praised her for raising awareness surrounding the fact that her generation could "bear the brunt" of climate change's continued impact.
Thunberg has also received co-signs from Alexandria Ocasio-Cortez, Bernie Sanders, Elon Musk, Kamala Harris, Beto O'Rourke, Valerie Jarrett, and more.