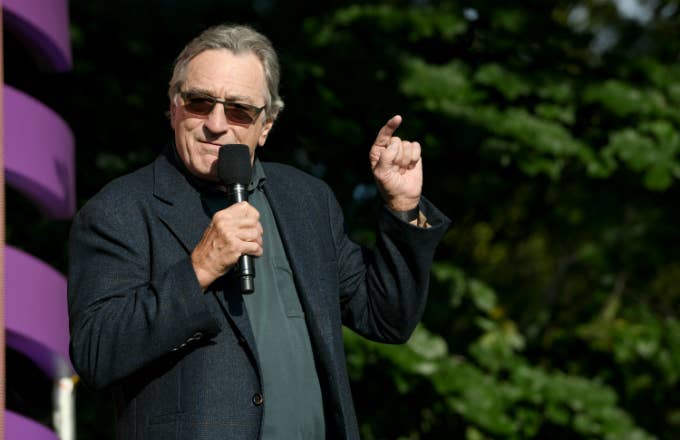 UPDATED Oct. 26, 10:00 a.m. ET: Suspicious packages addressed to Sen. Cory Booker and former Director of National Intelligence James Clapper have also been intercepted by authorities. Both were "similar" to the packages sent to Barack Obama, Hillary Clinton, Joe Biden, Robert De Niro, Kamala Harris, and others earlier this week.
See original story below.
A suspicious package addressed to actor Robert De Niro has been removed from the Greenwich Street headquarters of his Tribeca Enterprises media company.
"A suspicious package was received," a Tribeca Enterprises rep said in a statement to Variety Thursday morning. "We called the police. They took it out and went through all safety procedures. It was addressed to Robert De Niro and is similar packaging to the others. It is an open investigation. Everyone is safe and the building is open."
In a separate statement to CNN's Chloe Melas, De Niro's Tribeca Enterprises co-founder Jane Rosenthal confirmed the building had been briefly evacuated. "The building is open and everybody is safe," Rosenthal said. "This is not what free speech should look like." De Niro's Tribeca Grill restaurant is in the same building. CNN adds that X-ray images have revealed that the contents of the package addressed to De Niro are "similar" to the pipe bombs addressed to top Democrats, including former POTUS Barack Obama, earlier this week.
Also on Thursday, authorities reported that a similar package addressed to former VP Joe Biden had been intercepted.
Trump, arguably the dumbest motherfucker alive, decided that such news meant it was a good time for him to again make news organizations the target of undue ire. "A very big part of the Anger we see today in our society is caused by the purposely false and inaccurate reporting of the Mainstream Media that I refer to as Fake News," he tweeted while using his signature habit of randomly capitalizing words for no reason. "It has gotten so bad and hateful that it is beyond description. Mainstream Media must clean up its act, FAST!" Lest we forget, this is the same guy Kanye West has been publicly professing his affinity for at the possible expense of his own legacy.
Speaking of Kanye: