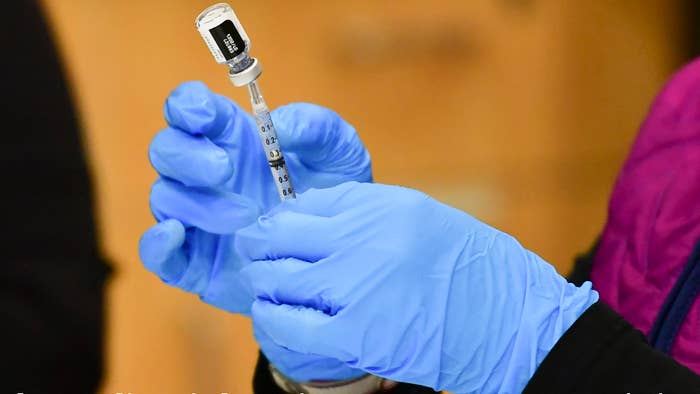 Pfizer's COVID-19 vaccine, as the pharmaceutical company and its partner BioNTech announced on Wednesday, is highly effective in people as young as 12 years old.
Currently, the vaccine has been approved for use in those 16 years of age and up. In the months ahead, however, a key part of continuing the national vaccine rollout will be expanding access to children. In a press release, the Pfizer vaccine was announced to have demonstrated 100 percent efficacy "and robust antibody responses" in a study of participants between the ages of 12 and 15.
"We share the urgency to expand the authorization of our vaccine to use in younger populations and are encouraged by the clinical trial data from adolescents between the ages of 12 and 15," Albert Bourla, Chairman and Chief Executive Officer at Pfizer, said on Wednesday. "We plan to submit these data to FDA as a proposed amendment to our Emergency Use Authorization in the coming weeks and to other regulators around the world, with the hope of starting to vaccinate this age group before the start of the next school year."
The data comes from a phase 3 trial of individuals between the ages of 12 and 15 with or without prior evidence of infection. The 100 percent efficacy and promising antibody responses, notably, beat those previously recorded in participants between the ages of 16 and 25. In the trial, researchers observed a total of 18 cases of COVID-19 in the placebo group, while the vaccinated group recorded a grand total of zero cases.
"Across the globe, we are longing for a normal life. This is especially true for our children," Ugur Sahin, CEO and co-founder of BioNTech, said. "The initial results we have seen in the adolescent studies suggest that children are particularly well protected by vaccination, which is very encouraging given the trends we have seen in recent weeks regarding the spread of the B.1.1.7 UK variant. It is very important to enable them to get back to everyday school life and to meet friends and family while protecting them and their loved ones."
Earlier this month, the CDC shared their findings from a study showing that both the Pfizer and Moderna vaccines were 90 percent effective (in those 16 years of age and older) in preventing infection after the second dose. For those partially immunized, i.e. anyone who's received the first of the two-shot dose, the vaccine's effectiveness for prevention of infection was shown to be 80 percent.
For region-specific vaccine appointment information, peep the VaccineFinder site now. Don't play yourself and those around you by sitting this pivotal moment out.