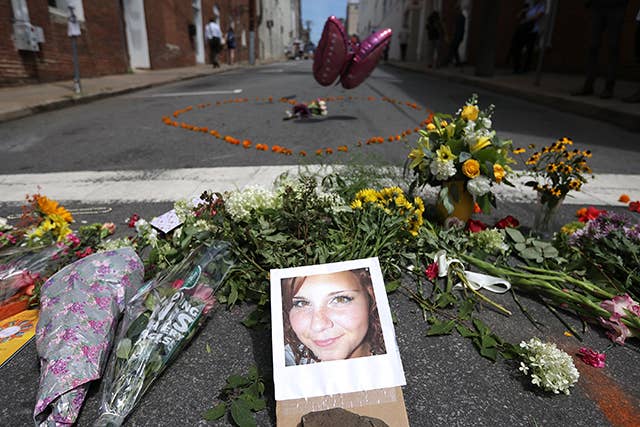 A neo-Nazi website has been banned by web hosting company GoDaddy after sharing an article denigrating Heather Heyer, the 32-year-old woman killed in the Charlottesville, Virginia terrorist attack. GoDaddy confirmed their decision in a tweeted response to New Agenda co-founder Amy Siskind's call for the site to be taken down Sunday night.
In a statement to the Washington Post Monday, a GoDaddy spokesperson said that the article was a violation of their terms of service. The article, the spokesperson said, could also "incite additional violence." 
Heyer was killed when 20-year-old James Alex Fields Jr. drove his car into a crowd of protesters, police say. Derek Weimer, Fields' history teacher in high school, toldCBS News that Fields "loved" Hitler. Fields has since been charged with one count of second degree murder, three counts of malicious wounding, and one count of hit and run attended failure to stop with injury.
Monday morning, Variety and others reported that the GoDaddy-banned neo-Nazi website that disparaged Heyer had allegedly been taken over by hackers. A single post on the website, dated Aug. 14, claimed that Anonymous was "now in control" and would allow the site to remain online for 24 hours "so the world can witness the hate." However, multiple social media accounts believed to be affiliated with Anonymous have denied these claims.
"Warning to our followers: We cannot confirm dailystormer was indeed hacked," a post from @AnonyInfo said. "Remain cautious." Another account, @AnonJournal, characterized the so-called "hack" as a "false flag" operation instigated by website founder Andrew Anglin. Given the timing of the so-called hack, and the fact that it constitutes a single page on the site instead of the usual full-scale takeover, multiple other Anonymous-affiliated accounts have called the site's claims into question.