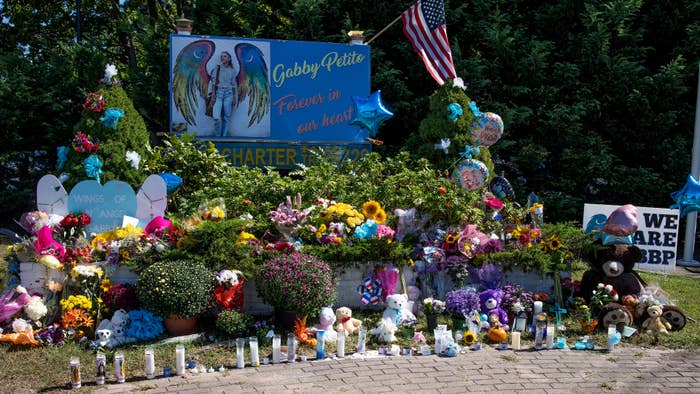 A New York man says he was taking a nap alongside his partner in a hotel when U.S. Marshals burst into the room, handguns drawn, after mistaking him for fugitive Brian Laundrie. 
Laundrie is considered a person of interest in the Gabby Petito case, and in late September an arrest warrant was issued in connection with an alleged instance of unauthorized debit card use. Amid the ongoing search, Severin Beckwith recently told the New Yorker, U.S. Marshals ambushed him and his partner Anna Brettmann at a North Carolina resort.
According to Beckwith, he and Brettmann—both from New York—had been on a hiking trip spanning from Georgia to Virginia since late last month. Once they made it to western North Carolina, they opted to take a quick break at the Lodge at Fontana Village Resort. After lunch, they went down for a nap, only to be awakened by loud knocking and a "muffled voice" outside their door. 
"Next thing I see is a bunch of guys with riot shields with 'U.S. Marshals' written on them," Beckwith said. "Handguns pointed at my face."
From there, Beckwith added, he was cuffed while still in his underwear and taken to the resort's hallway. The marshals are said to have noted a similarity between the side of Beckwith's head and that of Laundrie's. They also took issue with the fact that the room in question had been booked using a New York-based form of identification. Petito, notably, was also from New York.
After fingerprinting Beckwith using the hotel's WiFi and advising Beckwith to shave off his beard, the marshals left. In retrospect, Beckwith has pointed to an encounter he had with a marina shuttle employee, who—he later found out—had snapped a pic of him and shared it with authorities.
Complex reached out to the U.S. Marshals for comment and received the following statement from James P. Stossel in the USMS Office of Public Affairs: "The USMS often supports investigations conducted by our federal, state, local, and tribal partners. In this instance, the Graham County Sheriff's Office (GCSO) in North Carolina had received a tip that the fugitive Brian Laundrie had been sighted in their jurisdiction. GCSO asked the USMS task force to support them in making contact with the subject. The USMS was not the lead investigative agency in this matter and was acting in support of the GCSO."
Complex has also reached out to the Graham County Sheriff's Office for comment.
Meanwhile, TMZ reported Tuesday that a Florida property owner had shared the above surveillance footage with federal authorities, arguing that the unidentified individual seen on a bicycle could be Laundrie. Previous supposed sightings of this nature, however, have turned out to be fruitless.
Last month, Laundrie's parents told police and the FBI that the 23-year-old was missing. Also in September, human remains were discovered near the last known location of Laundrie's missing fiancée Petito, with the identity later confirmed. Furthermore, a coroner later said Petito had died due to strangulation. Laundrie is reported to have returned alone to his family's Florida home earlier that month in the van he and Petito used on an extensive road trip. More recently, a former co-worker described Laundrie as both a "chameleon" and "weirdo."
As we get closer toward the end of another month, the search continues. In the meantime, amateur sleuths have taken to closely watching Laundrie's alleged Pinterest account and other methods of continuing the search. In a recent interview, Petito's mother said she believes that Laundrie's parents "probably" know most of the information regarding her daughter's death, adding that she would like to ask them face-to-face why they are doing this.
Always worth a mention in stories like this, of course, is the continued prevalence of what's widely referred to as missing white woman syndrome.