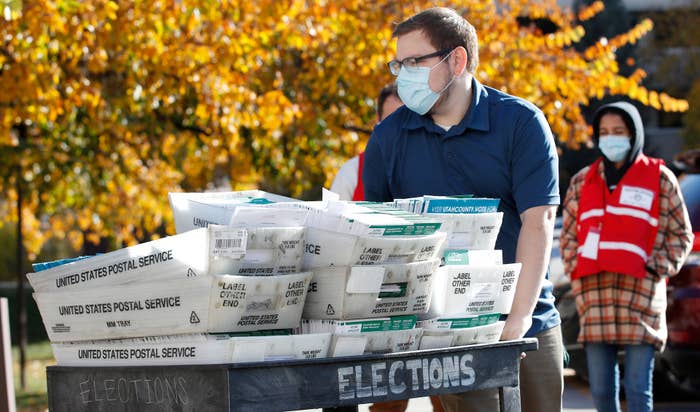 UPDATED 11/4, 12:30 p.m. ET: The clearly vexed U.S. District Judge Emmet Sullivan held a hearing at noon on Wednesday questioning why the U.S. Postal Service did not sufficiently comply with his order. "Someone might have a price to pay for that," he said.
"At some point, the postmaster [general, Louis DeJoy] is either going to have to be deposed or appear before me and testify under oath," Sullivan said, adding that the "court has been very clear that it expects full compliance."
Sullivan also said, "The court would have been very sensitive to any complaints that it was impossible to comply with the order. It just leaves a bad taste in everyone's mouth for the clock to run out, game over. There was not compliance with a very important court order."
As the Hill's John Kruzel wrote this morning, "New USPS data appears to show a failure to deliver mail ballots from voters across the country on Election Day." He explained more in a thread, followed by summary of Sullivan's remarks at the hearing:
Sullivan once again ordered the Postal Service to "dramatically ramp up efforts to scour their facilities for lingering Texas mail ballots," as Kruzel wrote:
The judge subsequently questioned USPS executive manager Kevin Bray on Wednesday:
See original story below.
A federal judge has ordered the United States Postal Service to conduct sweeps of facilities for any remaining mail ballots and to rush their delivery.
U.S. District Judge Emmet Sullivan said Tuesday that the USPS must conduct the sweeps in multiple regions where the processing for mail-in ballots has been slow. Affected areas include Alabama, Atlanta, South Florida, Greater South Carolina, and elsewhere. Sullivan, per the Hill, has given the USPS until 3 p.m. to "ensure that no ballots have been held up" in these areas.
The order means USPS inspectors or designees must conduct the facility sweeps between 12:30 p.m. ET and 3 p.m. ET on Tuesday. And no later than 4:30 p.m. ET, a status update must be filed showing compliance with the order.
Last Friday, the USPS shared a public statement detailing the "extraordinary measures" being implemented to ensure the delivery of ballots. Those efforts included establishing "ballot postmark only" lines at retail counters through Election Day, utilizing extra deliveries and collections to meet state deadlines, arranging after-hours handoffs with Boards of Elections, and more.
"These extraordinary measures are in addition to processes and procedures USPS has deployed since September to deliver the nation's ballots for the November election in a secure and timely manner," a rep said.
Also last week, Judge Sullivan signed an order requiring USPS managers to continue putting such measures in place as part of a larger effort to speed up the delivery process.