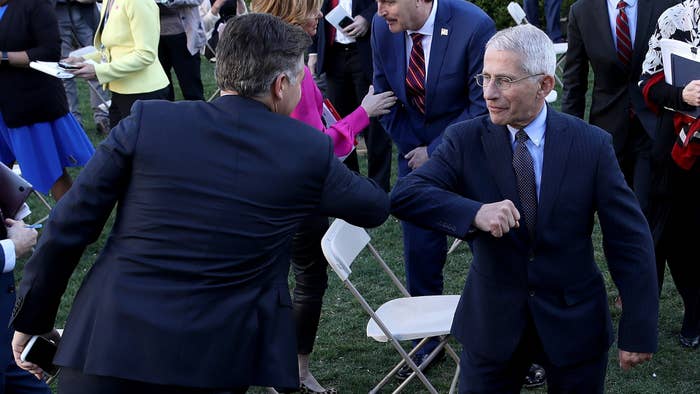 Dr. Anthony Fauci, boss of the National Institute of Allergy and Infectious Diseases and inadvertent health-minded meme inspiration, simply doesn't understand why certain COVID-19 containment efforts aren't being implemented at the federal level.
Chatting with Anderson Cooper and Dr. Sanjay Gupta for CNN on Thursday, Dr. Fauci was asked about the use of stay-at-home orders and similarly restrictive measures at the state level. Cooper, specifically, asked if the number of cases nationwide would start to see a continued uptick if all states don't start putting stay-at-home orders and rigorous social distancing in place. Dr. Fauci agreed, then used the opportunity to express disbelief at the fact that several states have seemingly been reluctant to take containment efforts seriously.
"I just wanna reach out to the viewers and say mitigation, if you do it well, is gonna be at a number that I don't like. ... If you back off and you don't mitigate, there's the possibility that the number will go up," he said. 
As for nationwide unity on these measures, which doesn't appear to be something the Trump administration is adamant on pushing, Dr. Fauci was quite clear on his stance.
"I don't understand why that's not happening," he said Thursday. "You know, the tension between federally mandated versus states' rights to do what they want is something I don't want to get into. But if you look at what's going on in this country, I just don't understand why we're not doing that."
As reported earlier this week, Dr. Fauci was recently forced to up his security detail after receiving an increasing number of death threats.