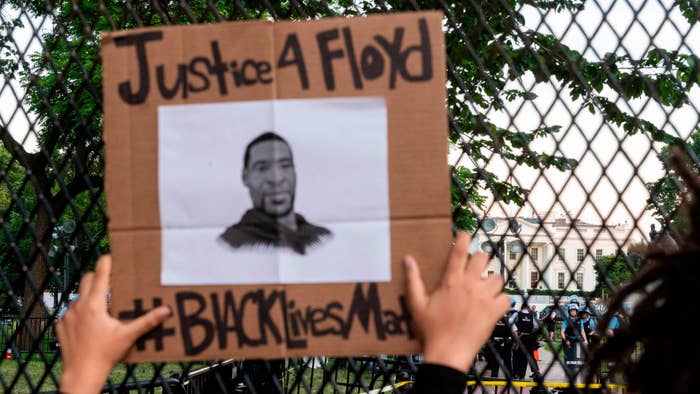 On a road just north of the White House (where a certain bunker baby infamously dwells), a massive Black Lives Matter message is being painted.
DCist reports that muralists are painting the message with letters that are 35 feet tall, on a two-block stretch of 16th Street NW in Washington D.C. Early Friday morning, the D.C. Department of Public Works closed off the area between H and K Streets so the muralists could finish their work ahead of a demonstration on Saturday.
"The painting of 16th St with BLACK LIVES MATTER is an effort not only blessed by Washington D.C. Mayor Muriel Bowser but initiated by her," LaToya Foster, spokesperson for the mayor, is quoted as saying in a separate report from CNN. "The painters are contractors directed by the mayor. They have been at it since 2 or 3 in the morning."
Work on the street display is projected to wrap up by 11 a.m. local time. And while the mainstream press surrounding its construction has been largely positive, the move from Bowser—who's previously received criticism for recent curfew tactics amid nationwide protests—has been questioned by some. Some critics have argued, for example, that the move is merely performative. 
The D.C. mayor also renamed the street in front of the White House "Black Lives Matter Plaza," complete with a street sign that reads "Black Lives Matter Plaza" attached to a lamp post outside St. John's church. 
The mayor also share video from the event on her Instagram.