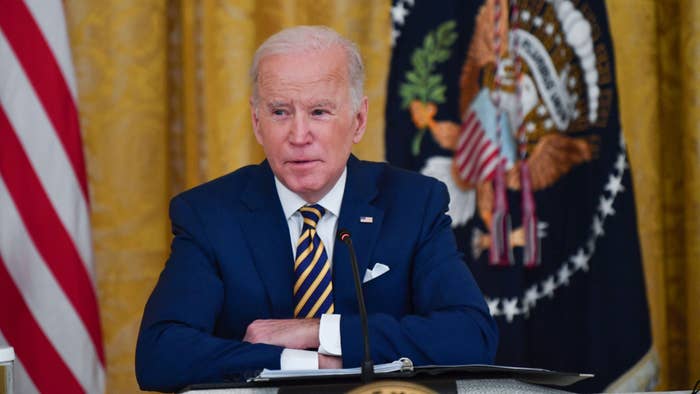 President Biden said Thursday that U.S. military forces had taken ISIS leader Abu Ibrahim al-Hashimi al-Qurayshi "off the battlefield," with reports stating that children were among those killed amid the operation.
"Last night at my direction, U.S. military forces in the northwest Syria successfully undertook a counterterrorism operation to protect the American people and our allies, and make the world a safer place," Biden, who later delivered additional remarks, said in a brief White House statement shared Thursday morning. "Thanks to the skill and bravery of our Armed Forces, we have taken off the battlefield Abu Ibrahim al-Hashimi al-Qurayshi—the leader of ISIS."
Closing out the statement, Biden noted that "all Americans" had "returned safely" following the operation. Per the Associated Press, however, first responders have said that 13 people—including six children and four women—were killed during the raid.
Citing a U.S. official, AP added that the ISIS leader (who's reported to have taken up the role after Abu Bakr al-Baghdadi's 2019 death) is believed to have died by exploding a bomb that killed himself and members of his family, including—as also mentioned in a separate New York Timesreport—women and children.
Bertrand Bainvel, who currently serves as UNICEF's acting Regional Director for the Middle East and North Africa, said Thursday morning that the agency had confirmed the deaths of "at least six children," while one girl is said to have been "badly injured." Civilian-populated areas, per UNICEF, were "severely damaged" overnight.
The Times notes that witnesses linked the local damage to strikes from U.S. military forces, while the U.S. has claimed that the damage was due to the reported self-detonation of al-Qurayshi.