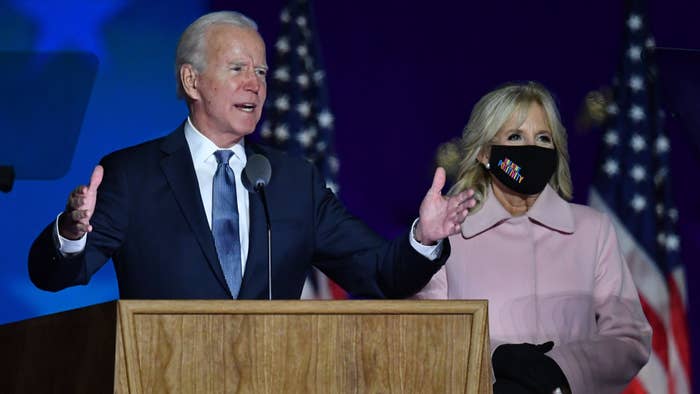 UPDATED 11/5, 12:10 p.m. ET: Georgia's Chatham County Superior Court Judge James Bass dismissed the lawsuit filed by Trump's campaign and the state's Republican party that sought to "ensure a coastal county was following state laws on processing absentee ballots," the Associated Press reports. The suit was suspicious of 53 absentee ballots which "poll observers said were not part of an original batch of ballots." 
Election officials in Chatham county gave testimony swearing all the ballots in question came in on time.
See original story below.
Biden's campaign said early Wednesday they had legal teams "standing by" should Trump—who falsely declared victory in the presidential election despite the race being quite obviously undecided—follow through on his threat to go to court in an effort to block the counting of votes.
Jen O'Malley Dillon, Biden's campaign manager, rightfully noted Trump's "naked effort" to stifle the voices of Americans.
"It was unprecedented because never before in our history has a president of the United States sought to strip Americans of their voice in a national election," Dillon said. "Having encouraged Republican efforts in multiple states to prevent the legal counting of these ballots before Election Day, now Donald Trump is saying these ballots can't be counted after Election Day either."
Dillon vowed that the Trump-annoying process of votes being fairly counted "will not stop," adding that Trump—as should be clear to every American at this moment—is actively seeking to "invalidate" the voices of voters who cast their ballots before Election Day.
"If the president makes good on his threat to go to court to try to prevent the proper tabulation of votes, we have legal teams standing by ready to deploy to resist that effort," Dillon said. "And they will prevail."
Late Tuesday night, Trump—among other shit—falsely claimed "they are trying to steal the election." The tweet has since been flagged by Twitter and now carries a warning message stating "some or all of the content shared in this tweet is disputed and might be misleading about an election or other civic process."
On Wednesday, Trump's campaign did file lawsuits in Pennsylvania and Michigan, demanding that votes in the latter stop being counted until "Trump campaign observers get more access to counting locations" NPR reports. Biden currently leads Trump in that state by less than 50,000 votes.
As far as Pennsylvania, Trump's campaign filed suit to halt the counting of ballots over similar reasons.
"In Philadelphia and elsewhere, Democrat officials forced our observers to stay 25 feet or more from the counting process, leaving no meaningful way whatsoever for our observers to do their jobs," dubiously stated Trump's deputy campaign manager Justin Clark.
In that state, per WTXL's 3:28 p.m.-published story, roughly 84 percent of the ballots have been counted and Trump is up nearly 300,000 votes.
Later on Wednesday, Trump continued his anti-democratic crusade. 
Without any evidence and the votes still being counted, Trump falsely declared that he won Pennsylvania. He also attempted to claim he won Georgia and North Carolina despite no calls being made for the two states. The tweets were subsequently flagged by Twitter for containing falsehoods about the election.
As more numbers in Georgia started to come in, closing the gap between the two candidates in the state, Trump's team filed a lawsuit against the Chatham County Board of Elections in an attempt to stop ballots from being counted, The Associated Press reported. 
As of 7:20 p.m. ET on Wednesday, Biden would be set to become the next president if he wins the state of Georgia as he currently has 264 electoral college votes, only a few shy of the 270 needed to be victorious, according to AP. Georgia has 16 electoral votes.
On Thursday, NPR reported that the Trump campaign and the Nevada Republican Party will file a lawsuit claiming that people who don't actually live in Nevada were allowed to cast ballots there. Per the report the campaign claims it has evidence, but has yet to present any.