Pfizer Says Its Antiviral COVID-19 Pill Curbs Hospitalization or Death by 89 Percent
Pfizer says its new COVID-19 antiviral pill can reduce the risks of hospitalization or death by 89 percent in high-risk adults. It has yet to be approved.
Getty
Image via Getty/David Benito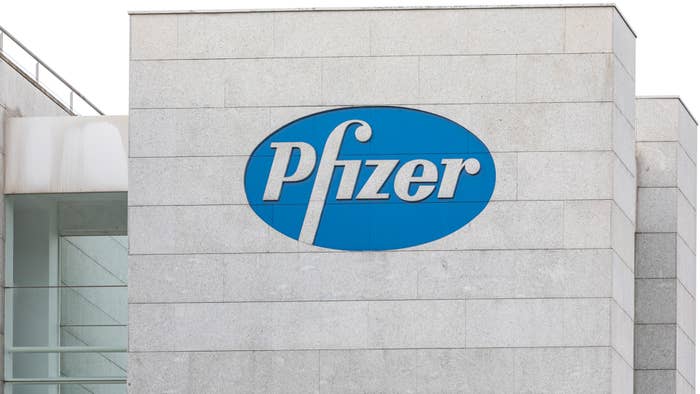 Pfizer is gearing up to roll out a COVID-19 pill that curbs hospitalization and death in immunocompromised adults who have contracted the virus.
The New York Timesreports that the pill, which will be sold under the name Paxlovid, can reduce risk by 89 percent. Paxlovid arrives behind Merck's antiviral pill, which was approved in Britain on Thursday. Pfizer said that it plans on submitting data to the FDA in hopes of getting the pills authorized in the U.S.
"I think this medicine will change the way things are happening right now that will save millions and millions of lives, it has the potential to do it," Pfizer CEO Albert Bourla told the outlet. "The very high efficacy comes even to us as a surprise, exceeds our most visionary expectations we had for that."
Paxlovid and Merck are targeted at high-risk patients who are above 60 or have underlying conditions that could make the symptoms of COVID worse. Pfizer said it's anticipating making enough pills for over 180,000 people by the end of 2021; in the first half of next year, it will have pills available for over 21 million people.
Pfizer studied the effects of the drug on 1,219 adults who had at least one medical condition and a confirmed case of the virus. Of the 607 patients who received the pill, there were six hospitalizations and zero deaths; of the 612 who were given the placebo, there were 41 hospitalizations and 10 deaths.
The treatment includes 30 pills dispensed over five days, 10 of which are ritonavir pills, an HIV drug that helps Pfizer's drug stay active in the body for a longer period of time. On the other hand, Merck's treatment will consist of taking 40 pills in five days.
Although the results are promising, ABC News notes infectious disease specialists as saying that getting a COVID-19 vaccine is the most effective way in which to combat the impacts of the disease. 
"These data suggest that our oral antiviral candidate, if approved by regulatory authorities, has the potential to save patients' lives, reduce the severity of COVID-19 infections, and eliminate up to nine out of ten hospitalizations," Bourla said in a statement.