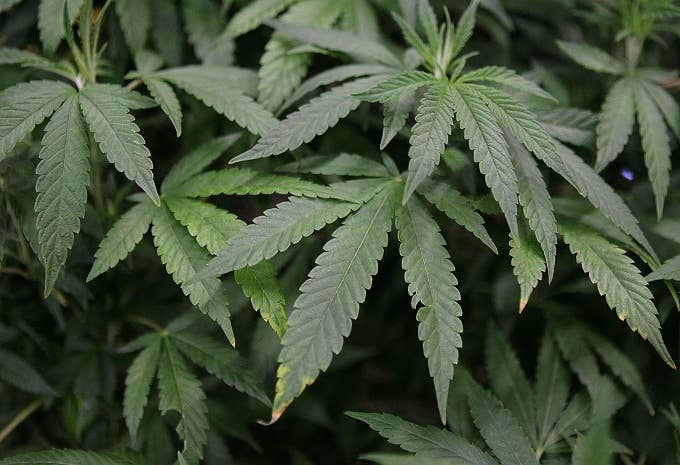 The Big Bud (working title)—also known as New York—is the 16th state in the country to legalize adult use of cannabis. And now there appears to be another green rush on the horizon for those who are enterprising and looking to add more unique strains of gas onto the market. 
The pace of innovation and ingenuity in the cannabis industry is expected to peak with New York City in the game, leading to a boon that is projected to infuse $435.7 million annually in state tax revenue and $336 million directly into Gotham's coffers. With such impacts on the horizon for New York and other cannabis-cool states already making waves, this is an excellent time to find where all the mouthwatering trips and treats are at. 
Just like sneakers and weekly Netflix releases, different weed strains and brands trend upward and downward across America—where 1 in 3 citizens now live in a legalization state. Specific tastes are making names for themselves outside their central locations, which means as the industry expands east, cannabis quality can build a strain from regular-degular into nationwide prominence.
For newcomers to all things green, we've featured some classics like Cookies and Bubba Kush, but on this 4/20 SZN we got you covered with what to look for so you can have it delivered right to your door before that next episode of The Falcon and the Winter Soldier.
These are 15 best weed strains to puff, puff, pass right now.
If you're talking about the hottest cannabis strains on the market, you can't get far without mentioning Berner and the team at Cookies. Your favorite rapper's favorite weed brand has been leading the way when it comes to standard-setting flavors since the original GSC. Now, Cookies' newest release Apples & Bananas is another hit. Bred by Compound Genetics, Apples & Bananas shines like a purple-tinted diamond and tastes like a sweet fruit smoothie with a heavy fuel finish. Add on a cannabinoid profile clocking in at 30 percent THC, and it starts to make sense why smokers across California have been lining up for hours to buy an eighth or two.
Sacramento-based weed company Lumpy's Flowers set the market on fire with their Apple Fritter strain, but the NorCal brand hasn't been resting on that success. Instead, they've been churning out more heat. At the tip of the flame is Cali Berry, a bright, energetic smoke that will singe your nose hairs with the sharp smell of grape candy. Oh yeah, and did we mention Cali Berry is named after Halle Berry? That definitely gets you extra points in our book.
If you listened to rap music in the 1990s, odds are you've heard the name Champelli. A legendary Bay Area cannabis cultivator and distributor, 'Pelli's name has shown up in songs from Snoop, Beanie Sigel, Memphis Bleek, Mac Dre, and most recently 2 Chainz. After spending some time behind bars for his work with the sweet leaf, Champelli is back in the game enjoying the fruits of West Coast legalization. One of his newest creations, Cassis, is a high-THC powerhouse with equal parts funk, fuel, and fruit on the nose and taste. Champelli usually keeps his strain's genetics under wraps, but told Complex that Cassis was made by crossing Gushers Pie, Gelato, and a third mystery strain. Cassis may be hard to find, but the hunt is well worth it.
Founded by Shavo Odadjian (System of a Down), 22Red is based on the bassist's affinity for numerology and synesthesia. With many major events in Shavo's life revolving around the number 22, the company's reveal of two new strains—namely Church22—possess energy that could fuel a cannabis lover's wildest dreams. If you're already working on your life path and purpose, then Church22, with its distinct frankincense aroma and piney taste, is right up any novice or connoisseur's alley. Add in that 22Red will be adding two new strains, LA Punk Cake and Divorce Cake, and you'll definitely need to get to an LA dispensary to enjoy these new flavors.
If you fell in love with smoking Gelato in 2018 and 2019 but need something new for the next decade, give Horchata a chance. The Compound Genetics creation is a cross of Mochi Gelato and Jet Fuel Gelato. The result is a creamy smooth hybrid with a THC percentage in the high 20s and out of this world bag appeal. Horchata's genetics are so strong that the strain has already been picked up and put on the market by leading brands like Dubz Garden and Backpackboyz. It's clear that Horchata is a strain you'll be seeing around for quite some time. 
In the modern weed industry, you know you're doing something right when the bootleggers and off-brand dealers start copying your bags and stealing your strain names. For the team behind Maqui, the imitation flattery is well-warranted. One of the better-looking flowers on the market, Maqui, a cross of Mochi and Ice Cream Cake, is everything you look for in a top-shelf flower. Resembling green boulders dotted with purple and coated in trichomes, Maqui packs a sweet, gas-forward smell and a smooth, creamy flavor matched with a heavy whole-body high. Maqui is worth searching for, but make sure you can find the real deal and not a fugazi pack. Just remember, no tray, no play, and no seal, no deal.
Moonbow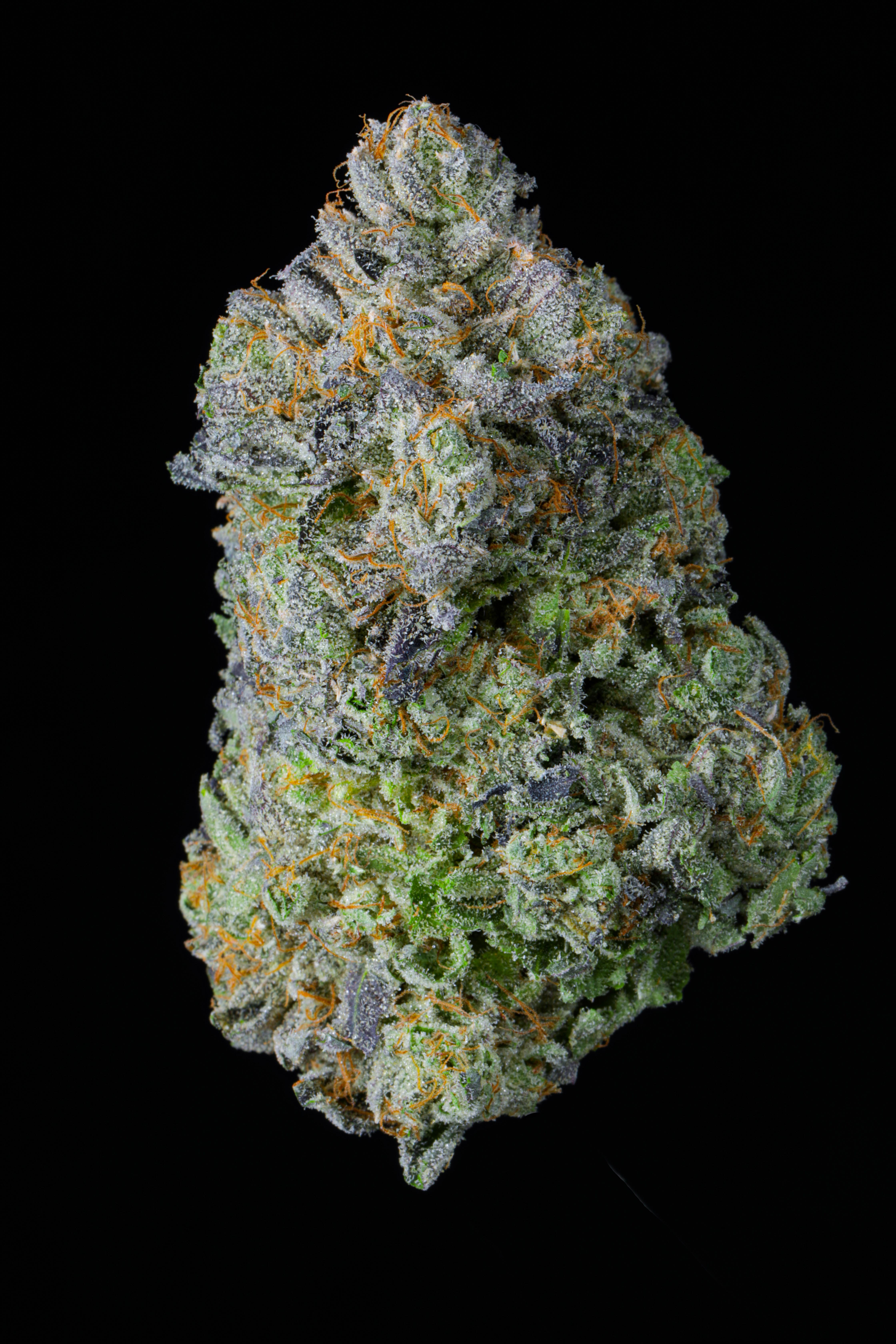 Pink Cookies, also known as Wedding Cake, is an indica-dominant hybrid that is sure to remain one of the most popular strains in the world. Originally bred by Seed Junky Genetics, this cross between Triangle Kush and Animal Mints is in a cannabis class all its own. Blessed with a sweet, dougy, vanilla-like flavor in its strain, this is the new hybrid for a new generation. If you haven't gotten swept up into the cannabis world yet, this is a great strain to try for your first time out.
When Rick Ross isn't leasing out his mansion to film Hollywood movies, he is continuing to be the biggest entrepreneur in the weed game (next to Wiz Khalifa and Snoop Dogg). Pink Rozay, which is one of three strains from his collaboration with Cookies Collins Ave, has grown in popularity thanks to its high THC content and distinct flavors. Fueled by London Poundcake #75 and Lemonchello 10 parentage, this indica has a fruity scent and delivers Herculean-esque effects, ultimately leaving you happy and feeling like you're smoking one with the Bawse.
Sometimes the best inventions are just happy accidents, and Prickly Pear from San Francisco's Turtle Pie Co. fits that bill perfectly. The result of a Gelato bag seed (yet another happy accident) mistakenly crossing with the brand's famed Gelato X, Prickly Pear is a vibrant purple flower blanketed in crystals. Unlike its Gelato parents, Prickly Pear has a deep musky and fruity smell that fills the room as soon as you open the bag. Exotic flavors may seem like a dime a dozen these days, but Prickly Pear stands out in the crowd.
If you like purple flower, Reign is the strain for you. A collaboration between Ball Family Farms and NBA vet Al Harrington's Viola, Reign is a relaxing Indica that will help curb the stress of even your hardest days. The small batch bud has a terpene profile that highlights grape, earthiness, and the classic gas leak of OG Kush, checking every box on the cannabis cannausers list. Reign mixes old-school flavor profiles with new-school power for a strain that is perfect for all times of the day, just as long as you don't have anything to actually get done.
Don't front, you might want to hate on Runtz, but no matter how you may feel—you cannot deny the real. This cross of Zkittlez and Gelato has become famous for its frosty purple flowers and pungent sweet, fruity, and gassy terpene profile. These elements help to make the strain popular to cannausers everywhere. If you're looking to get dumb high, relaxed, and happy, then smoking this strain is choice—especially when it is from the right grower.
In 2019, a strain called Apple Fritter climbed to the top of the California market with terpenes that tasted like a fresh-baked apple pie on every hit. This year, cannabis companies across the map started breeding the Apple Fritter strain with other genetics to create new super-strains. In Los Angeles, craft cannabis brand Your Highness found the pick of the orchard with Shady Apples. A cross of Apple Fritter and Kush Mints 11, Shady Apples is a one-hit-knockout at 29 percent THC and serves up a heavy dose of the unstoppable smiles. The deep green and purple buds smell like rich baked apples with deep fruit and OG gas flavor that will have you reaching to roll another joint before the first is even over.
As stated with Pink Cookies, WiFi Cake is also a strain that is rising in acclaim and popularity. Even though you might be more familiar with Ice Cream Cake or (Wedding Cake x Gelato) and Jungle Cake (White Fire #43 x Wedding Cake), the Jungle Boys-created WiFi Cake is sure to give cannausers a deeper and richer high than the rest. Made up of the ingredients Wedding Cake and the supremely legendary, White Fire OG, WiFi Cake will connect you wirelessly to wherever you want to go.
If you're looking for gorgeous bag appeal and a strong case of couch-lock, try to get your hands on some YaHemi from Grandiflora Genetics. A cross of Melonade and Grandi's famed Project 4516, YaHemi is a deep purple bud that sparkles bright with trichomes. The high-powered strain has a crazy funk for a smell but hits incredibly smooth. If you're looking for something so loud your neighbors will smell it before you even spark up, YaHemi is the strain for you.