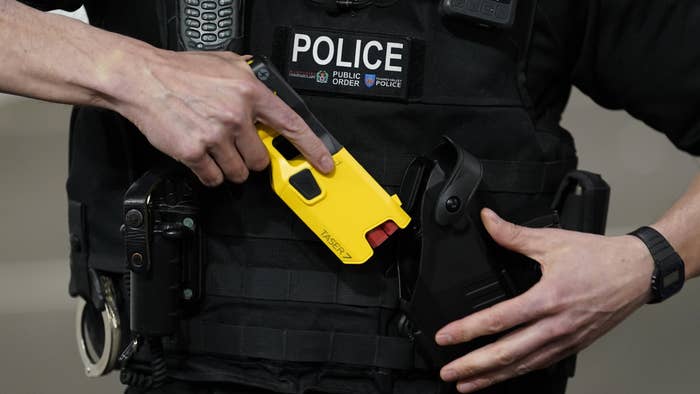 A sheriff's deputy in Florida was criminally charged for firing a taser at a man who was pumping gas into his car and igniting a fireball that severely injured the victim, according to the Orlando Sentinel.
Last Thursday, Osceola County Deputy David Crawford was charged with culpable negligence for the incident at a Wawa gas station that left Jean Barretto Baerga engulfed in flames with burns to three-quarters of his body. The officer tackled Baerga after following him in response to a report of bikers riding recklessly.
Fox 35 reported that Sheriff Marcos López said Baerga had run through several red lights, got on the sidewalk and grass, and rode into oncoming traffic before pulling into the gas station. Bodycam footage showed Crawford, without announcing himself, tackling Baerga and telling his partners to turn off the gas pump.
"Kill the pump! Kill the pump! There's gas!" Crawford yelled after another deputy, Christopher Koffinas, used his stun gun on Baerga.
The suspect was drenched in gasoline as Crawford raised his taser and told Baerga: "You're gonna get tased again, dude!"
Crawford then fired his weapon and ignited the gasoline causing an explosion that found Baerga ablaze.
"Deputy Crawford recklessly deployed a taser at the victim who had become soaked in gasoline, and as a result, caused the explosion that injured the victim," State Attorney Monique Worrell said according to Fox 35.
Baerga received second and third-degree burns to about 75 percent of his body, according to his lawyer, Mark NeJame. The only parts of his body that weren't affected were his face, hands and his feet.
Baerga's medical expenses have crossed $7 million but his legal team is planning to get that money from the sherrif's office.
"They're going to cost the taxpayers in Osceola County millions," NeJame said. "There should be consequences, because how else do we stop this type of activity for happening again?"
He added: "He barely survived. His life will always be in jeopardy because of the massive amount of scar tissue and damage that happened to his body. He's doing his best to get through his life with these cards that have been dealt to him.
"If he was driving recklessly, charge him with reckless driving, but you don't almost kill somebody and set them on fire. You cannot have law enforcement running amok. They're supposed to be our protectors, not our ignitors."
Crawford is in administrative leave and Koffinas reportedly received a 40-hour unpaid suspension for firing his stun gun, but won't face criminal charges.