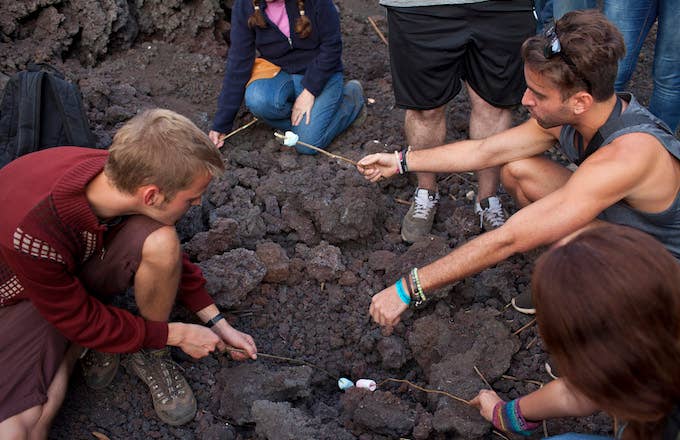 The U.S. Geological Survey, which has been tirelessly working for weeks to keep Hawaiians safe from the aftermath of Kilauea's volcanic eruption earlier this month, just replied to a Twitter user asking the most unexpected of questions—whether it's safe to use volcanic vents as culinary tools or not. 
Kilauea erupted a few weeks ago and caused thousands of evacuations by both Kilauea residents and those living in the Leilani Estates in Pahoa, which is over 25 miles away. While the USGS is thoroughly preoccupied with serious issues like keeping people from being consumed by boiling magma, the service needs a break once in a while, too. Thankfully, these lifesaving scientists and humanitarians get to interact with Twitter users like Jay Furr, who's clearly been pondering how best to take advantage of the free geothermal heat on the island.
To his credit, Furr was at least smart enough to ask those with the most experience whether or not his idea was ingenious or just plain stupid before attempting any grave stunts on his own. Fortunately, the USGS replied five minutes later, presumably dissuading the dude from cooking his marshmallows over volcanic rock.
It's as simple as that, folks—it's not just that the sulfur dioxide or hydrogen sulfide mentioned above would smell terribly, and add an unpleasant odor to your marshmallows, but combining the potentially sulfuric acid-laden volcanic smog with sugar would apparently result in "a pretty spectacular reaction." I'm going to go ahead and trust the USGS on this, and not let curiosity get the better of me by finding out first-hand just exactly how spectacular a reaction that would be.
As for Hawaiians, the volcanic eruption was sadly not the only natural disaster affecting locals, as a series of earthquakes hit the Big Island a few days later. One particular quake had a magnitude of 6.9—the largest earthquake in Hawaii in over 40 years.