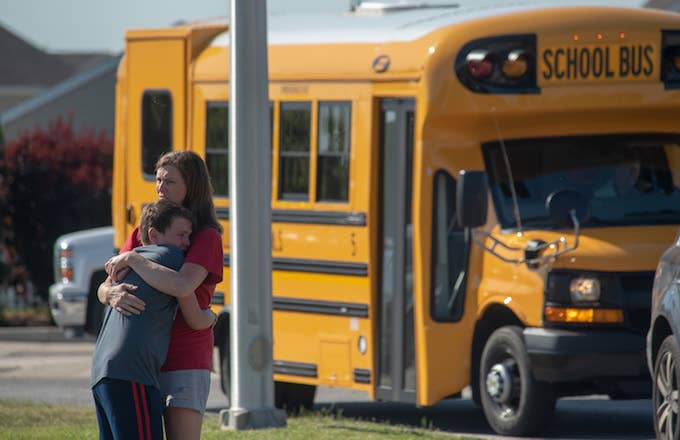 The Noblesville West Middle School shooting on Friday came a mere week after the Santa Fe High School shooting in Texas. These shootings almost feel like a regular occurrence these days, and there's barely a single positive thing to mention when this news hits. Fortunately, one Noblesville teacher allows us to take a breather, and reaffirm the notion that there are heroes out there who'll do the right thing regardless of fear.
According to the Associated Press, 29-year-old 7th-grade science teacher and former college football player, Jason Seaman, took it upon himself to incapacitate the shooter who entered his classroom on Friday. While Seaman was shot three times, he managed to tackle and disarm the shooter to save his students from further harm. 
"I want to make it clear that my actions on that day, in my mind, were the only acceptable actions I could have done given the circumstance," he said. "I deeply care for my students and their well-being. That is why I did what I did that day." 
According to MSN, Seaman's brother, Jeremy, wouldn't have expected anything less. "It's not surprising, to be honest," he said. "He's not really ever been the person to run away. When the safety of the kids is at hand, it's not surprising to me that he was going to do what he had to do." 
One student fractured an ankle during Friday's active shooter situation, while Seaman—and 13-year-old student, Ella Whistler—were shot. The young girl was in critical yet stable condition, with school principal Stacey Swan adamant she's been improving. 
"Her courage and strength at such a young age is nothing short of remarkable," said Seaman. "We all should continue to keep her in our minds as she continues to recover."
Fortunately, Twitter users are keeping Jason Seaman in mind—as an example of the kind of courage, honor, and action in an era of inaction that we should all collectively strive toward. Take these Twitter reactions to heart, and realize the kinds of things that make human beings collectively appreciative are far different than what we're usually inundated with in media and entertainment.