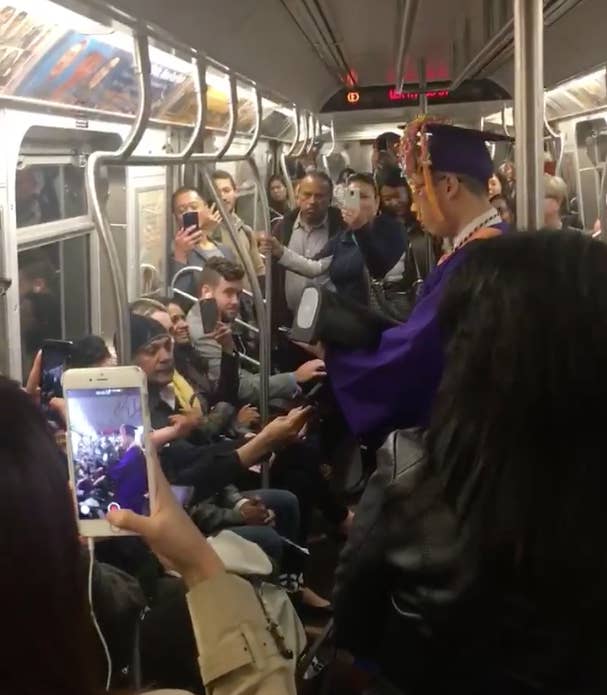 If you've ever felt that sinking feeling of being stuck on public transportation with no way out, you wouldn't wish it on anyone. Having to rely wholly on public transportation is a pain as it is, particularly when you have milestones in your life to celebrate.
A student by the name of Jerich Marco Alcantara found that out the hard way this week. Alcantara planned to take the E train to his commencement ceremony at Hunter College on Tuesday, according to New York Magazine, when delays of almost three hours pushed back his travel time and caused him to miss his ceremony. There was a separate ceremony later that day, but Alcantara specifically wanted to make the early ceremony, because students only had access to two tickets for friends and family at the latter event. He wanted to include as many people as possible in his big day.
Stuck on the train in full graduation garb, Alcantara received a wonderful surprise from some fellow New Yorkers and friends who were with him on the train—they held an impromptu graduation ceremony on the Subway, complete with Green Day's "Good Riddance (Time of Your Life)" playing in the background. A nearby passenger recorded the event, and it's pretty heartwarming:
Moments like these help you gain a little more faith in your fellow man during a turbulent time for the country. Although these aren't all strangers, it's still wonderful to see people band together to make sure someone feels the proper recognition—or at least some recognition—for their big achievement.
While he wasn't able to make the full ceremony, in a way this will end up being a more memorable moment for Alcantara down the road. He'll be able to point to his diploma and not just think of the hard work it took to earn it, but the one-of-a-kind memory missing his real graduation ceremony created. And from the sound of things, he even got a bonus ceremony following his exit from the subway.
"I missed the commencement, but after the auditorium cleared out, my close friends threw me my own little graduation," he said. "It was a great time."