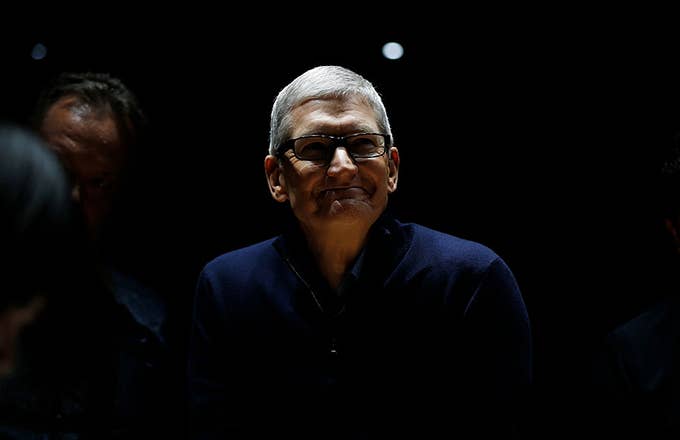 Large companies and brands tend to stay away from politics as much as they possibly can. The infamous and lightly-sourced quote attributed to Michael Jordan, "Republicans buy sneakers too," reflects the maxim corporations tend to adhere to. Everything is judged on bottom-line impact, so statements on political issues are not treated lightly.
Knowing that, Apple CEO Tim Cook's email to employees on Donald Trump's refugee ban should speak volumes about how concerned the company is with the issue. Here is Cook's memo to the company's employees in full:
There are employees at Apple who are directly affected by yesterday's immigration order. Our HR, Legal and Security teams are in contact with them, and Apple will do everything we can to support them. We're providing resources on AppleWeb for anyone with questions or concerns about immigration policies. And we have reached out to the White House to explain the negative effect on our coworkers and our company.
Trump's ban hits close to home for Apple because of present-day circumstances, but also because of their history. Apple visionary Steve Jobs was the son of a Muslim migrant who came to the U.S. from Syria. Under Trump's order, Jobs' biological parents would never have been allowed to come to America to begin with. Without sympathy for migrants in war-torn countries, the company might not exist today, let alone be the global powerhouse it has turned into.
Having met with Trump as recently as December, Cook had shown at least a partial desire to work with the incoming President. He defended the meeting by saying sitting out would not help anyone.
"The way that you influence these issues is to be in the arena," Cook said following that December meeting. "So whether it's in this country, or the European Union, or in China or South America, we engage. And we engage when we agree and we engage when we disagree."
Apple is not the only major tech company speaking up. Netflix CEO Reed Hastings took to his personal Facebook page today to voice his displeasure:
Trump's actions are hurting Netflix employees around the world, and are so un-American it pains us all. Worse, these actions will make America less safe (through hatred and loss of allies) rather than more safe. A very sad week, and more to come with the lives of over 600,000 Dreamers here in a America under imminent threat. It is time to link arms together to protect American values of freedom and opportunity.
Executives from companies like Twitter, Uber, and other power names in the industry have made their unhappiness clear, with some pledging to do their best to relieve stress for employees who will be adversely affected by the legislation.
While the focus for these issues often circles back to the big names who might be impacted, it's important to remember the little guys who have the most to lose here. Good on Cook and others for speaking out, but their outcry must be followed up with action for it to help the people now living in uncertainty.