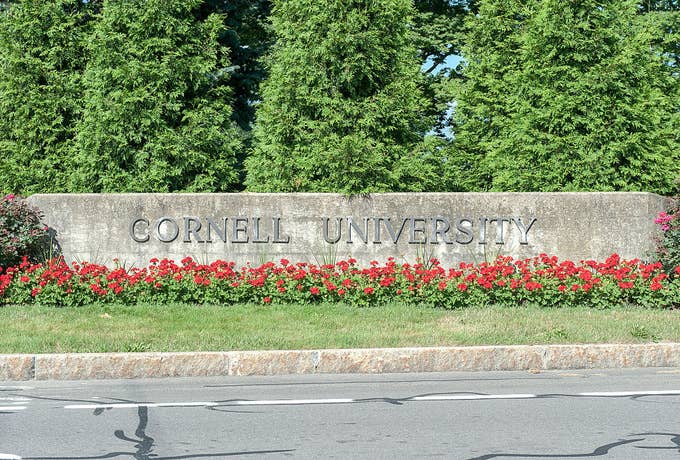 When a senior at Cornell University was questioned on the length of her shorts by a professor during a presentation, she had the ultimate response: "Strip, everybody!"
Letitia Chai gave her thesis presentation on Saturday in the Physical Sciences Building, reports The Cornell Daily Sun. Earlier that week, Chai experienced an awkward altercation with a professor in a course entitled "Acting in Public: Performance in Everyday Life." While doing a practice run of her thesis presentation in the class, Professor Rebekah Maggor asked if her attire was "really what you would wear," according to Chai. She was wearing a button-down shirt and cutoff jean shorts.
"I think that I was so taken aback that I didn't really know how to respond," she said.
The syllabus for the course stated that students should "dress appropriately for the persona [they] will present." Maggor reportedly said that the student's shorts were too short and that she was making a "statement" with her clothing choice.
In an email to The Sun, Maggor wrote, "I do not tell my students what to wear, nor do I define for them what constitutes appropriate dress. I ask them to reflect for themselves and make their own decisions."
During the practice run, a male student said that a speaker has a "moral obligation" to dress in a conservative fashion while presenting their thesis. At this point, Chai left the room. Maggor spoke with her students in the classroom and then left to speak with Chai. She reportedly asked what Chai's mother would think of her clothing choice, and then asked what she planned to do. "I'm going to give the best damn speech of my life," Chai responded. The student proceeded to strip down to her bra and underwear, re-entered the classroom, and gave her practice presentation.
After the incident, 11 students wrote a statement to The Sun. "After Letitia left, our professor listened and agreed with many of the student's comments and criticisms," they wrote. "She wholeheartedly agreed that her initial comment was about professionalism rather than the 'male gaze' mentioned in the student discussion. She also apologized for her choice of words, acknowledging that the notion of 'short shorts' on women carries a lot of cultural and political baggage."
During Chai's formal thesis presentation, she wore the same clothing she had worn during the class. She requested that her audience "question themselves" based on what other people think of their appearances as she stripped down to her underwear. She then asked for others to remove their clothing and 28 out of the 44 people in attendance did. After her presentation, Chai hosted an informal roundtable with students.