Samsung Will Reportedly Drop a Smart Flip Phone Sometime Next Year
The device, reportedly called Galaxy Fold 2, will feature a 6.7-inch screen with a Razr-like clamshell.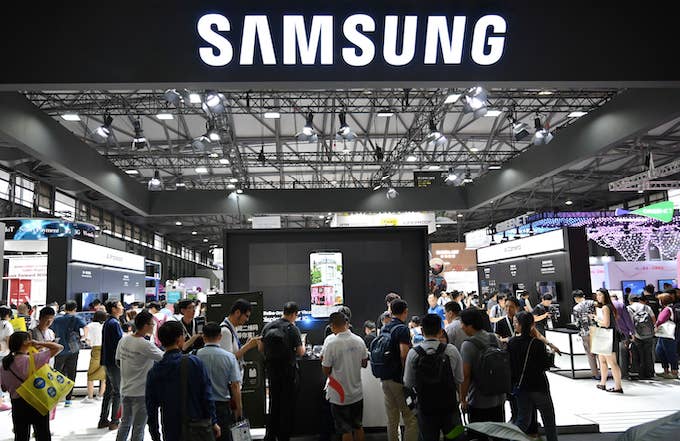 Getty
Image via Getty/Hector Retamal/AFP
Though the Galaxy Fold has yet to receive an official release date, Samsung has reportedly started working on its follow-up.
According to Korean outlet ET News, the tech giant is preparing to release a more compact foldable device that is reminiscent of the old-school clamshell flip phone. The purportedly dubbed Galaxy Fold 2 will have a 6.7-inch screen just like the Galaxy S10 5G, and will fold in half across the horizontal axis, unlike the original Galaxy Fold, which bends vertically like a book.
When folded in half, the rumored device will feature a 1-inch exterior screen that displays simple information like text and call notifications. This means you'll have to open the device to access the apps, while the original Galaxy Fold can still be used as a smartphone even when it is bent.
Many have pointed out that the Galaxy Fold 2 description sounds very similar to Motorola's upcoming RAZR foldable.
It's unclear when the Galaxy Fold 2 is expected to drop, though sources claim it could arrive as early as next year. Samsung has not confirmed the reports.
The original Galaxy Fold was initially set to release back in May, but was postponed after multiple malfunction reports. A Samsung spokesperson reassured customers the company is "conducting a thorough inspection into the issues reported by some of the reviewers of early Galaxy Fold samples. We will share the findings as soon as we have them."
Samsung has not provided a new release date.