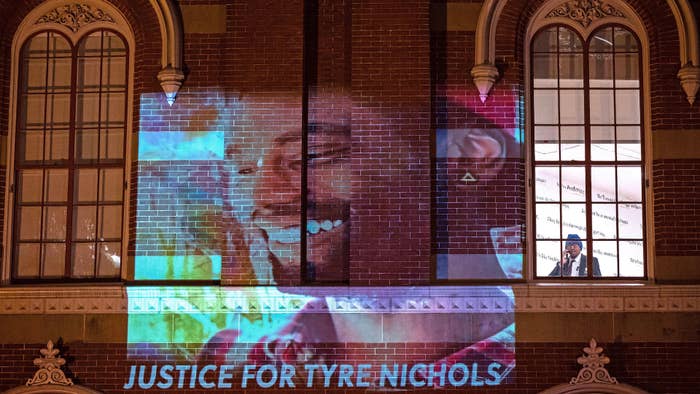 The Memphis Police Department has permanently suspended Scorpion, a controversial task force that was tied to the death of Tyre Nichols.
Authorities announced the move in a public statement on Saturday, less than 24 hours after the Memphis PD released bodycam footage of Nichols' deadly police beating. Scorpion, which stands for "Street Crimes Operation to Restore Peace In Our Neighborhoods," was launched in late November 2021, when the residents called on officials to take action against the city's surging murder rate. 
"The unit is comprised of four teams of officers whose primary focus will be violent crime reduction and the saturation of hot spot areas throughout the city," the Memphis PD wrote when announcing the unit.

Scorpion was heavily criticized among police reform advocates, who said the so-called "anti-violence unit" would lead to overly aggressive police tactics and further erode public trust in law enforcement.
Objections to the unit intensified this week, when Steve Mulroy—the District Attorney for Shelby County, Tennessee—confirmed "the Scorpion unit was involved" in Nichols death. However, he did not clarify which of the officers were a part of the unit.
"In the process of listening intently to the family of Tyre Nichols, community leaders, and the uninvolved officers who have done quality work in their assignments, it is in the best interest of all to permanently deactivate the SCORPION Unit," the department said in a statement. "The officers currently assigned to the unit agree unreservedly with this next step. While the heinous actions of a few casts a cloud of dishonor on the title of Scorpion, it is imperative that we, the Memphis Police Department take proactive steps in the healing process for all impacted."
You can read the full statement below.
Nichols died on Jan. 10, just three days after he was severely beaten during a traffic stop. Footage of the incident showed multiple officers repeatedly kicking and striking for at least three minutes. The 29-year-old was later transported to the hospital, where he succumbed to his injuries. The Tennessee Bureau of Investigation determined Nichols' death was caused by the "use-of-force incident" with the Memphis PD.
The officers involved in the beating were identified as Tadarrius Bean, Demetrius Haley, Emmitt Martin III, Desmond Mills Jr., and Justin Smith. The men have since been fired from the Memphis PD and are now facing murder charges.