Elon Musk Thinks It Would Be a 'Mistake' to Give His Kids Control of His Companies
The tech billionaire claims he has already selected successors if "something happens to me unexpectedly."
Clive Mason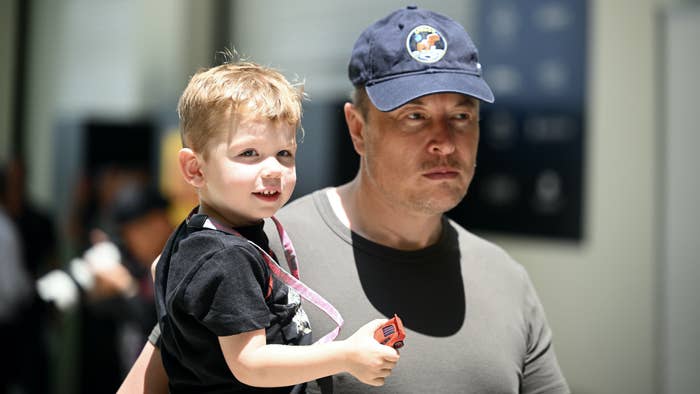 It appears Elon Musk isn't a full-on nepotist.
During a recent interview with the Wall Street Journal's CEO Council, the polarizing businessman revealed he's already selected successors for his billion-dollar tech empire if and when he becomes indisposed.
"Succession is one of the toughest age-old problems," he told the council. "There are particular individuals identified that I've told the board look, 'If something happens to me unexpectedly, this is my recommendation for taking over.' So in all cases, the board is aware of who my recommendation."
Though he didn't identify any of his potential replacements, Musk immediately made it clear none of them were his children.​​​​​​​
"I am definitely not of the school of automatically giving my kids some share of the companies, even if they have no interest or inclination or ability to manage the company," he explained. "I think that's a mistake."​​​​​​​
Musk has fathered at least nine children, including a 3-year-old son, X AE A-XII, and a 1-year-old daughter, Exa Dark Sideræl Musk, both of whom he shares with Canadian artist Grimes. In her 2022 Vanity Fair cover story, Grimes spoke about her son's relationship with Musk and how he's frequently seen by his father's side.
"Whatever is going on with family stuff, I just feel like kids need to stay out of it, and X is just out there. I mean, I think [Elon] is really seeing him as a protégé and bringing him to everything and stuff," she revealed. "X is out there. His situation is like that."
Musk's oldest known child is his 19-year-old Vivian Wilson, a transgender woman who publicly cut ties with her father about a year ago. Shortly after turning 18, Wilson filed to legally change her name. According to court documents obtained by the Associated Press, Wilson cited gender identity and her estranged relationship with Musk as the primary reasons for the change. "I no longer live with or wish to be related to my biological father in any way, shape or form," she reportedly wrote.
Musk currently owns six major companies: Tesla, SpaceX, Neuralink, SolarCity, The Boring Company, and Twitter. He purchased the latter for about $44 billion in 2022 and quickly took over the CEO role. In the months since the controversial acquisition, Twitter has faced mounting problems ranging from fleeing advertisers and regulation policies to technical glitches and rising competitors. In an effort to solve those problems, Musk announced he would step down from the chief executive role and hand the reins to Linda Yaccarino, NBCUniversal's former chair of advertising sales.