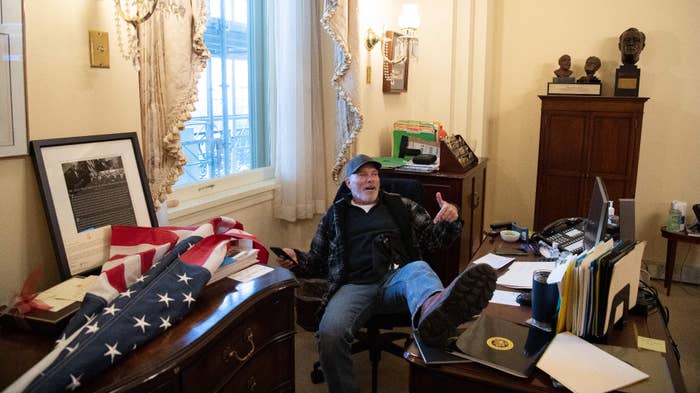 Richard Barnett, who will forever be known as the guy who was photographed putting his foot on former House Speaker Nancy Pelosi's desk during the Jan. 6 riot at the U.S. Capitol, was found guilty on eight counts Monday. 
According to the New York Times, Barnett will be sentenced on May 3, where he faces up to 47 years in prison. His attorney Joseph McBride said they intend on appealing the ruling, which was reached after the jury deliberated for about two hours.
"He loves God," McBride said. "He loves his country. He understands he did something wrong. He doesn't think his life should end because he put his feet up on somebody's desk."
In addition to putting his feet on Pelosi's desk, Barnett, who goes by the nickname "Bigo," is accused of stealing a letter addressed to her, and leaving a note which read, "Nancy, Bigo was here, you bitch." Barnett claims he didn't take the letter and that he left a quarter on her desk, even though he said she isn't "worth it."  
According to CNN, McBride argued his client wrote the "slang" word "biatch" in his note, claiming it was "less offensive."
Prosecutors said Barnett was also carrying a stun gun tucked into his pants when the photo was taken. The packaging for the weapon was later found at his home during a search. Barnett said during his testimony that he didn't believe the stun gun was operational because he washed it in the shower. 
Barnett also claimed he "wasn't part of that protest, I was pushed in."