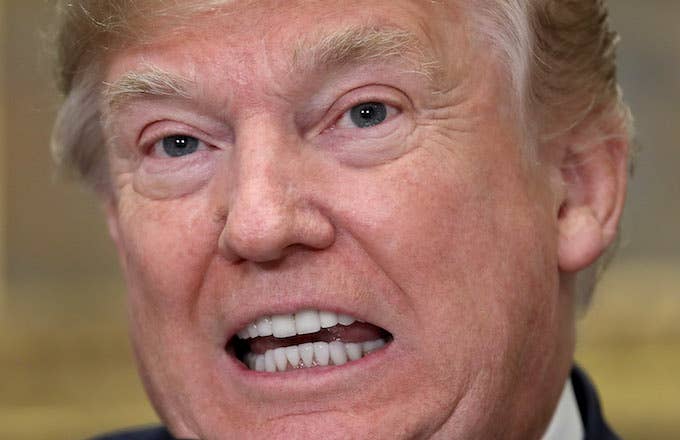 On Wednesday, Donald Trump held his first cabinet meeting of the year, and all anyone wanted to talk about was the poster strategically placed in front of him on the table.
The poster was taken from an image that Trump posted back in November before placing sanctions on Iran. The font was clearly borrowed from the hit HBO show Game of Thrones, not to mention that phrase was stolen from the series' famous motto, "Winter Is Coming." 
On Thursday, Trump doubled down on the GOT theme with an Instagram post declaring that "The Wall Is Coming." The photo includes a fence or "wall" with—you guessed it—steel slats along the bottom. 
Trump centered the cabinet meeting on his border wall, stating that "walls work." However, history and Game of Thrones prove that The Donald couldn't be more wrong. Take the finale of the last season of Thrones, which saw the Night King use Viserion and its blue dragon fire to tear down a large section of The Wall. 
When asked about the "Sanctions are Coming" poster, Kellyanne Conway, counselor to Trump, pretty much confirmed what we knew all along: He hasn't seen the show. 
Someone should spoil last season's finale for him, so he knows how that "Wall is Coming" meme isn't a good look for his border wall argument.