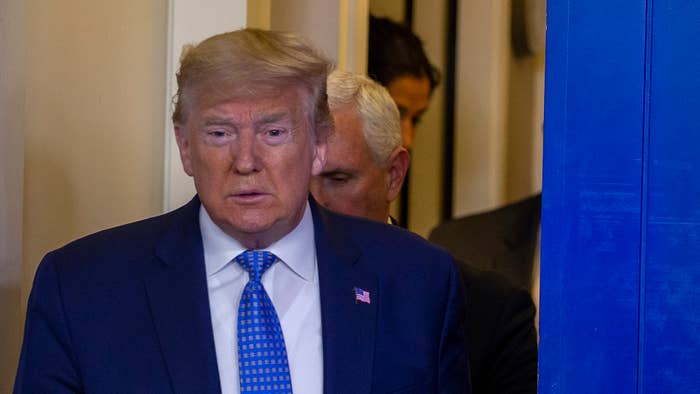 UPDATED 3/19, 3:15 p.m. ET: In a close up of notes from Trump's Thursday coronavirus press briefing, it can be seen that he crossed out the word "corona" and replaced it with the word "Chinese."
See original story below.

Donald Trump is facing a new wave of scrutiny after posting a tweet Monday night where he called the coronavirus "the Chinese Virus."
Trump has since doubled down on his "Chinese Virus" label in a tweet early Tuesday where he reignited his ongoing dispute with Andrew Cuomo over the New York governor's demand for greater assistance from the federal government in order to combat this pandemic. 
CDC Director Robert Redfield backed Rep. Lois Frankel, who called out Trump last week for supporting use of "Chinese Virus" through a retweet. "It's absolutely wrong and inappropriate to call this the Chinese coronavirus, I assume you would agree with that," Frankel asked Redfield, who replied, "Yes."
On Tuesday Trump explained his so-called rationale: "China, uh, was putting out information, which was false, that our military gave this to them. That was false. And rather than having an argument, I said I have to call it where it came from. It did come from China. So I think it's a very accurate term. But no, I didn't appreciate the fact that China said our military gave it to them—our military did not give it to anybody."
Asked if he thinks "China virus" creates a stigma, Trump toddlerishly replied, "No, I don't think so. I think saying that our military creates a stigma."
The virus, which is believed to have originated in Wuhan, China, was eventually renamed COVID-19 by the World Health Organization to divert attention and blame away from a particular city, people, etc. However, Trump's attempt at rebranding the coronavirus has since been ignorantly embraced by his supporters, but the attention should primarily be focused on the people who have thoughtfully criticized him for using such divisive language at a time like this.