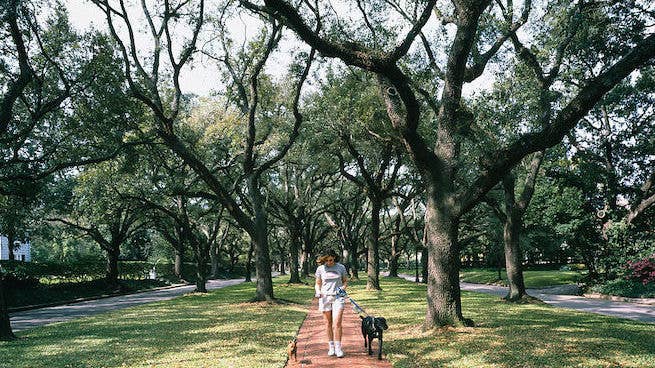 Franci Neely, a Houston socialite and the ex-wife of Astros owner Jim Crane, was recorded harassing a black family for taking photos on a scenic boulevard in celebration of their daughter's first birthday. Neely had her unleashed Pomeranian with her, and zero shoes.
Kelyn and Isaiah Allen hired a professional photographer to take pics of their baby daughter Anja. The couple had set up blankets and brought a few balloons to the North Boulevard in Houston, a picturesque esplanade frequented by individuals wishing to capture a special memory. 
However, as the Allens were photographing their daughter, Franci Neely became angered that they were blocking the sidewalk. In a now-viral video, the barefoot Neely is seen with her leash-less dog, approaching the family and screaming at them for taking pictures on the esplanade. According to Kelyn, Neely passed several groups similarly taking photos to approach Kelyn and her family, yelling, "You are trampling the grass that we pay for."
When Kelyn asked Neely to restrain her Pomeranian, as it had approached her 1-year-old child, the woman reportedly refused to do so because she was on private property and can thus, do whatever she pleases. The photographer then attempted to ease the situation by explaining she was the one directing the shoot, to which Neely replied that she brought "these" people to "her" neighborhood. 
As the confrontation began to escalate, Isaiah pulled out his phone and started recording Neely, which prompted her to then slap his camera. The woman then began aggressively moving the blanket and props, startling the child to the point of tears. 
A police report was filed after the incident. Houston Public Works told ABC13 that contrary to Neely's belief, the area is not private property. "The esplanades of Broadacres are part of a public city of Houston right-of-way," they explained. "The Broadacres Homeowners Association cannot block the esplanades from public use. Anyone with concerns about members of the public blocking a public right-of-way are asked to call 311."