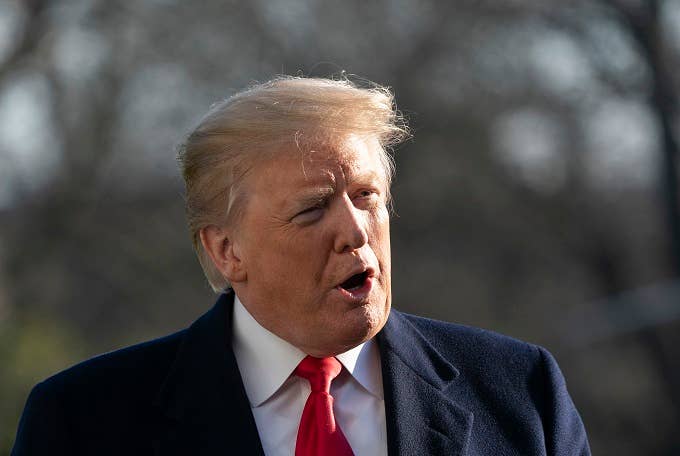 Trump's announcement indicates that the president has backed down on his demand to keep the government closed until he receives funding for a border wall along the U.S.-Mexico border. Rather, the government will reopen and allow legislators to work on a larger immigration and border security compromise. "I am very proud to announce today that we have reached a deal to end the shutdown and reopen the federal government," the president told reporters in the Rose Garden of the White House. 
During the president's speech, he addressed the nearly 800,000 federal employees who have either been furloughed or asked to work without pay. Following the decision, Congress quickly passed spending bills that will return closed federal agencies to normal operation. "I will make sure that all employees receive their back pay very quickly or as soon as possible," he said. "It will happen fast."
However, as the president announced the reopening, the teleprompter apparently froze which allowed Trump to fall back on baseless claims during an improvised tangent. 
Although the president failed to coerce Democrats into allocating billions of dollars towards his wall, he indicated that should the two parties fail to come to a wall funding agreement by the Feb. 15 deadline, he is prepared to restore the tensions or declare a national emergency and circumvent the legislative branch alltogether. "We really have no choice but to build a powerful wall or steel barrier," the president said. "If we don't get a fair deal from Congress, the government will either shut down on February 15, or I will use the powers afforded to me under the laws and Constitution of the United States to address this emergency."
Trump also droned on about the perceived dangers at the Southern border, painting a grim picture of how he believes immigrants are putting the country's safety at risk. "Women are tied up. They are bound. Duct tape put around their faces... in many cases, they cannot even breathe," he said. "They are put in the backs of cars or vans or trucks. They don't go through port of entry. They make a right turn into the US."
Senate majority leader Mitch McConnell then reiterated the party's dedication to constructing a physical barrier along the souther border in his Congressional address, which immediately followed the president's. "I was glad to see today the president's announcement that he and our Democratic colleagues have reached an agreement," he said. He stated that he hopes Democratic legislators will "stay true to their committment" that once the government is reopened, border security measures will be discussed, which McConnell reiterated would include "physical barriers."