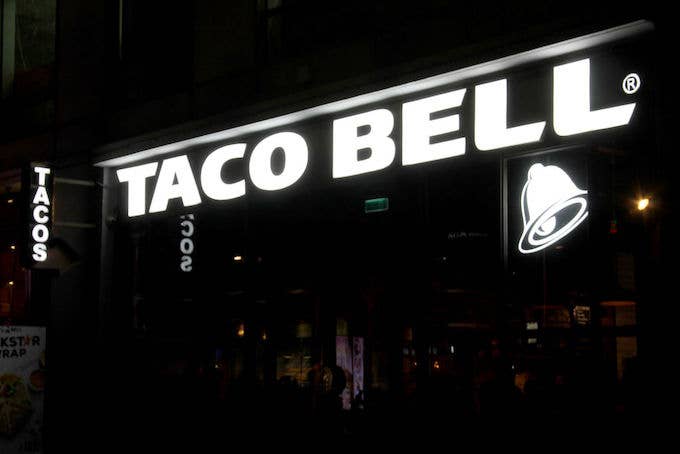 Taco Bell is bringing a hotel and resort to Palm Springs, California. 
The fast-food chain, known for its Mexican offerings and hot sauce, will be venturing into the hospitality industry come August, purple bell and all.
"From check-in to check-out, The Bell: A Taco Bell Hotel and Resort reimagines what a hotel stay can be, unveiling a destination inspired by tacos and fueled by fans," the company's official announcement reads. "Everything from guest rooms to breakfast and poolside cocktails will be infused with a Taco Bell twist, making this the flavor-filled getaway of 2019."
The hotel will include a gift-shop filled with branded Taco Bell knick-knacks and clothing, providing super-fans of the chain with a fully immersive experience. Based on the video the company released via Twitter on Thursday, it doesn't seem like the gift shop will be the only thing TB-branded. 
Taco Bell's Chief Brand Officer, Marisa Thalberg, told CNBC that the impetus behind the "unparalleled experience" is grounded in the desire to bring something playful and fun to Taco Bell fans. "I have often quipped that Taco Bell is the fast fashion of food. We have our everyday classics, but then we're always introducing these cool limited-edition experiences to do something new and different," she explained. 
This isn't Taco Bell's first foray into the hospitality landscape. The company teamed up with Airbnb in 2016, to offer four fans the opportunity to stay at one of their locations in Canada overnight. 
"From a Forever 21 fashion line to weddings in the Las Vegas flagship Cantina, Taco Bell has long been surprising and delighting fans with unexpected ways to celebrate their love for the brand," the company's statement said. 
So if you're really trying to immerse yourself in everything Taco Bell, look no further than Palm Springs.