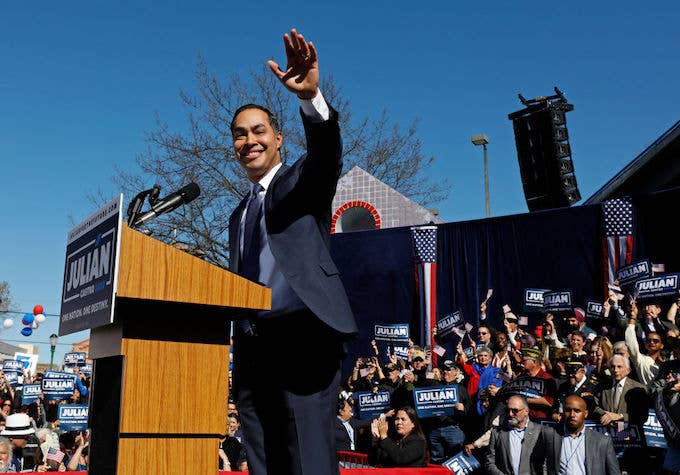 Julian Castro, the former housing secretary under the Obama Administration and former mayor of San Antonio, announced Saturday that he will be joining the 2020 presidential race. 
To a crowd of cheering San Antonians gathered at the Plaza Guadalupe amphitheater on the city's west side, Castro announced his candidacy and further cemented himself as one of the rising stars within the Democratic party. 
"When my grandmother got here almost a hundred years ago, I'm sure she never could have imagined that just two generations later, one of her grandsons would be serving as a member of the United States Congress and the other would be standing with you here today to say these words: I am a candidate for President of the United States of America," Castro said.
Castro embraced a left-leaning message throughout his announcement. He pledged not to accept corporate PAC money during his campaign, called for criminal justice reform and lauded the Black Lives Matter movement. In addition to presenting his progressive agenda, Castro firmly opposed Trump's immigration policies and condemned the president for creating a "crisis of leadership."
Castro's announcement has been anticipated for several weeks after he established a presidential exploratory committee last month. Months prior, he published a memoir titled "An Unlikely Journey," a common tactic used by presidential candidates to project a personal narrative ahead of the upcoming campaign. 
Castro served as the mayor of San Antonio from 2009 to 2014, overseeing a spike in the city's booming population growth as well as a surge in economic opportunity. Two years after delivering the keynote speech at the 2012 Democratic National Convention, Castro was appointed to Secretary of Housing and Urban Development by President Obama during his second term. 
In addition to Castro, Elizabeth Warren of Massachusetts, Tulsi Gabbard of Hawaii and John Delaney of Maryland have all announced their intention of seeking the Democratic nomination.