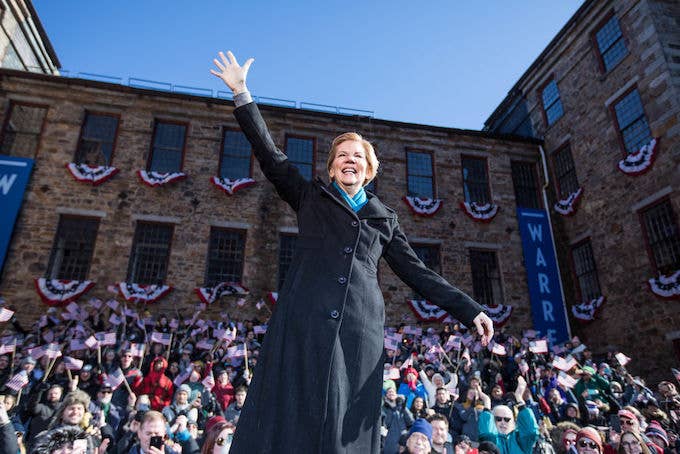 Massachusetts Senator Elizabeth Warren formally announced her presidential bid near the banks of the Merrimack River in Lawrence, Mass. on Saturday. Warren, whose candidacy has been widely anticipated since forming a presidential exploratory committee in December, told a crowd of cheering supporters that she intends on fighting for "fundamental change" on behalf of working-class Americans and called Trump's presidency "the most corrupt in living memory."
"It won't be enough to just undo the terrible acts of this administration," Warren said. "We can't afford to just tinker around the edges — a tax credit here, a regulation there. Our fight is for big, structural change."
Warren chose the symbolic location for its historical significance to the worker-centric approach she aims to adopt. A group of mostly immigrant women declared a strike at the Everett Mills in 1912 and collectively demanded safer work conditions and higher wages. Warren then used the site's history to highlight the imbalanced scales in today's economy, which more often than not disproportionately affects the middle class. 
"Today, millions and millions and millions of American families are also struggling to survive in a system that's been rigged, rigged by the wealthy and the well-connected," Ms. Warren emphatically stated. "Like the women of Lawrence, we are here to say enough is enough!"
Since 2012, the senator has been embroiled in a controversy for claiming to have Native American ancestry, which has provided her Republican opponents with substantial political ammo. The president has become one of Warren's chief critics in recent years, referring to her as "Pocahontas," and alleging that she fabricated her minority identity. However, Warren apologized to the Cherokee Nation last week for undergoing a DNA test to prove her Native American heritage.  
The senator has been informally campaigning in key states such as Iowa, New Hampshire and South Carolina, however in a packed field of Democratic candidates—Cory Booker of New Jersey, Kamala Harris of California, Kirsten Gillibrand of New York and Julian Castro of Texas, among others—Warren seemingly used her announcement to bring the political spotlight back to her campaign.