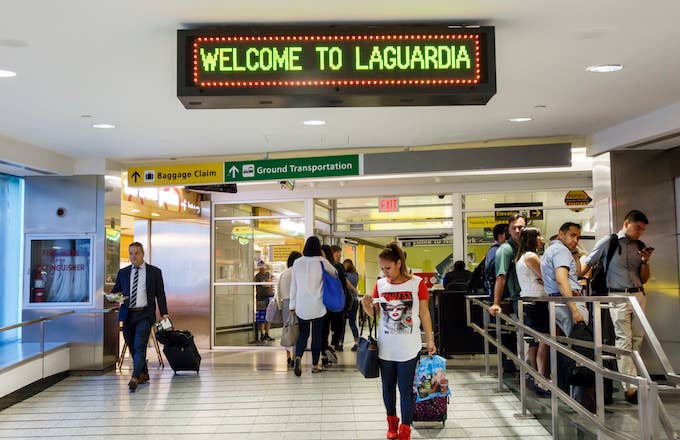 The unions that represent air traffic controllers, pilots, and flight attendants issued a dire warning Wednesday, explaining the grave air safety risks in effect amid the longest government shutdown in U.S. history. 
In a joint statement released by the National Air Traffic Controller's Association (NATCA), Air Line Pilots Association (ALPA), and the Association of Flight Attendants-CWA, the union leaders note the risks associated with security checkpoints closing, with more closures expected to take effect. They explain that asking aviation professionals to work without pay is "unconscionable" and air safety will continue to deteriorate as the government shutdown drags into its fifth week. 
"We have a growing concern for the safety and security of our members, our airlines, and the traveling public due to the government shutdown," the statement reads. "In our risk averse industry, we cannot even calculate the level of risk currently at play, nor predict the point at which the entire system will break."
During an appearance on CNN's Cuomo Prime Time, NATCA President Paul Rinaldi explained that the statement was not meant to stir mindless panic, but the dire concerns laid out in the joint statement are genuine. He attributed the worsening situation to a "staffing crisis," with some employees working night and day as the government shutdown continues to place significant pressures on the country's air-travel system.
Airports are losing as much as $100 million a month in revenue due to shutdown, and passengers are worried that the lack of security personnel has made traveling unsafe. The Air Traffic Controllers union became the third federal employees' union to sue the president over the shutdown earlier this month, citing the deprivation of "hard-earned compensation without the requisite due process."
Donald Trump has remained adamant that the government shutdown will continue until $5.7 billion is allocated towards the funding of his wall along the U.S.—Mexico border, prompting House Speaker Nancy Pelosi to issue a letter to the president stating he is not welcome to deliver the State of the Union address at the Capitol on Tuesday if the government is not fully opened.