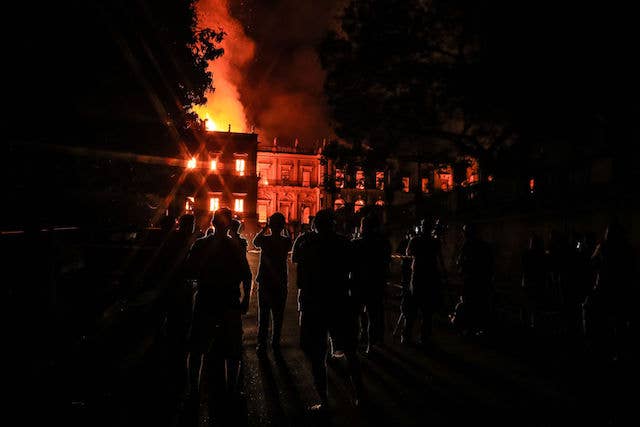 In addition to Luzia's skull, ABC reports that a collection of Egyptian mummies that were acquired in the 1800s by Emperor Dom Pedro I was also destroyed. The largest meteorite that ever hit Brazil was also housed in the building, though pictures on social media suggest it remains intact.
Not surprisingly, the building itself also held historical significance for the country. "The building was the place where the proclamation of independence of Brazil was signed in 1822," said Brazilian historical colorist Marina Amaral. "The original document, as well as many archives, were probably lost in this fire."
The building had functioned as a museum since 1982, and was originally founded in 1818, while also previously serving as a palace for the royal family.
The source of the fire is currently unknown, though Culture Minister Sergio Sa Leitao told local media it may have began after a paper hot air balloon landed on the roof. Furthermore, Luiz Duarte (who served as vice director of the museum) said on Brazilian TV that he had asked for funding to preserve the building's contents for several years now. "It is 200 years of Brazilian's heritage," he said. "It is 200 years of memory. It is 200 years of culture. My feeling is an immense anger. Definitely an unbearable catastrophe."
Additionally, a spokesperson for Federal University of Rio de Janeiro (which supervises the museum) said that it had only gotten 60 percent of this year's budget. And a deputy director for the museum said they were never given adequate support.
For those wondering, no major injuries have been reported.