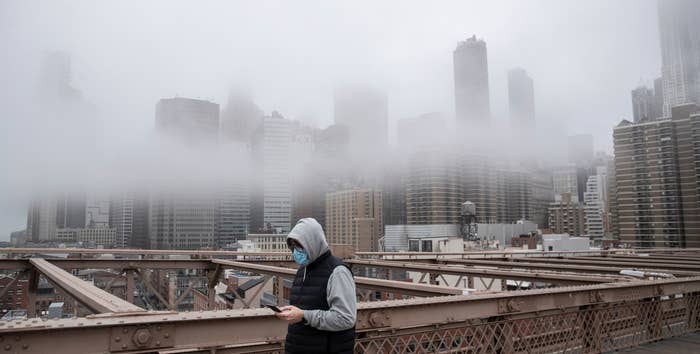 New York governor Andrew Cuomo announced that all New York residents must wear "masks or face coverings" when traveling outside their homes, and social distancing is "not possible."
Per The New York Times, this requirement is the subject of an executive order that is set to go into effect on Saturday. Although Cuomo said he's not calling for penalties yet, he did state that those who violate the order could face fines. Also, not wearing a mask will not be grounds to remove someone from mass transit, but it could be in the future. New York City mayor Bill de Blasio echoed Cuomo's order, announcing on Wednesday that every grocery store in the city should require shoppers to wear face coverings to enter.
While the United States is the country with the most coronavirus cases globally, New York has long been referred to as the virus's epicenter. As of Wednesday, there have been 202,208 confirmed coronavirus cases in the state, resulting in over 10,000 deaths and counting. Requiring people to wear a protective face covering in public is the state's latest attempt to control the spread of the virus. 
These efforts appear to be working to at least some degree. Cuomo says that the three-day average of the number of virus patients in hospitals—one of the most telling measures of the virus's impact—dropped by nearly 0.7% since Tuesday.
"Social distancing is working," Cuomo tweeted late last week. "We must keep it up."