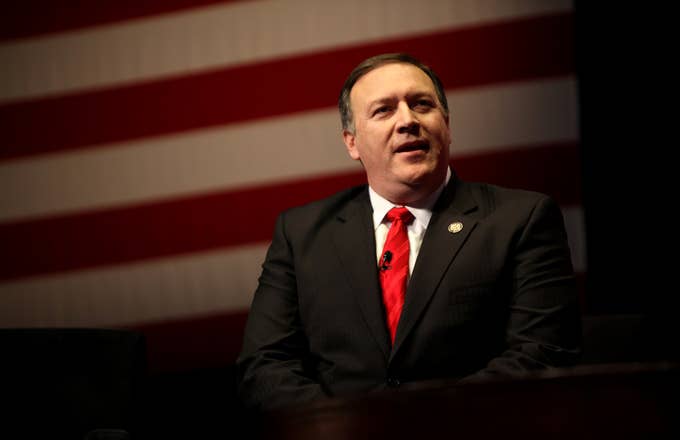 As president-elect Donald Trump continues to fill his cabinet with far-right conservatives, multiple media outlets report that Kansas U.S. Representative Mike Pompeo has been offered and accepted the position of CIA director. Pompeo's voting record in the House shows a commitment to conservative approaches to national security, including a vote to renew the roving wire taps allowed under the Patriot Act.
In 2011, Pompeo voted to approve the extension of the Patriot Act's roving wire taps and to cut federal funding of National Public Radio. A few years later in 2013, Pompeo co-sponsored an opposition to the U.S. becoming a signatory to the United Nations Arms Trade Treaty, which regulates the international trade of arms. Pompeo opposed on the grounds that the Treaty posed risks to national security and second amendment rights. In reality, the Arms Trade Treaty aims to limit prolonged conflicts and unregulated arms transfers globally.
Pompeo also co-sponsored a bill to keep Gitmo open and to disallow the U.S. government's ability to transfer Gitmo prisoners to other domestic or foreign facilities. Many Democrats in Congress support the closing of Gitmo, which President Obama promised but failed to close during his two terms.
On more contemporary foreign affairs and security issues, Pompeo tweeted an article about the Obama administration's Iran deal from a right-wing opinion site, Weekly Standard, on Thursday and said, "I look forward to rolling back this disastrous deal with the world's largest state sponsor of terrorism."
On Friday, the official Twitter account for the 2017 presidential transition quoted Trump as saying that Pompeo "has served our country with honor and spent his life fighting for the security of our citizens." 
CNN reports that Pompeo supported Florida senator Marco Rubio during the Republican primaries and was critical of Donald Trump's campaign but later supported Trump in the general election against Hillary Clinton.