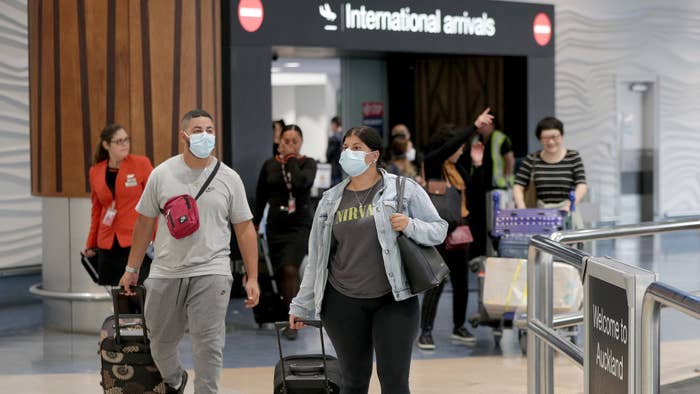 The White House has announced that travel bans to eight southern African countries will be lifted.
Reuters reports that foreign nationals who traveled to South Africa, Botswana, Zimbabwe, Namibia, Lesotho, Eswatini, Mozambique, and Malawi will be allowed to enter the U.S. after 12:01 a.m. ET on Dec. 31. Leaders in the region have criticized the ban as discriminatory and futile.
Air travel restrictions had been imposed on Nov. 29 to curb the new, highly-infectious Omicron COVID-19 variant, which had been discovered by scientists in South Africa. Omicron has now become the dominant variant in the U.S., with it making up 73 percent of new cases in the States.
White House spokesman Kevin Munoz tweeted on Friday that the "decision was recommended by @CDCgov. The restrictions gave us time to understand Omicron and we know our existing vaccines work against Omicron, esp boosted."
This past month apparently gave U.S. public health officials time to see if our vaccines and booster shots work against Omicron. "This travel pause has served its purpose. It bought time to understand the science, it gave time to analyze the variant," an unidentified official told the outlet. "This was not meant to keep Omicron out. We knew we couldn't do that. The point was to reduce the number of cases coming in—in those early days and weeks."
Foreign travelers from the aforementioned southern African countries will have to show that they are fully vaccinated and show proof of a negative COVID-19 test.
"We certainly welcome this development," Clayson Monyela, head of public diplomacy in South Africa's department of international relations, said, per The New York Times. "We've always maintained that these travel bans were unscientific and discriminatory. They've had a devastating impact on our travel and tourism industry, on business and families."
The British government previously announced on Tuesday that it was lifting restrictions on travelers from 11 African countries.