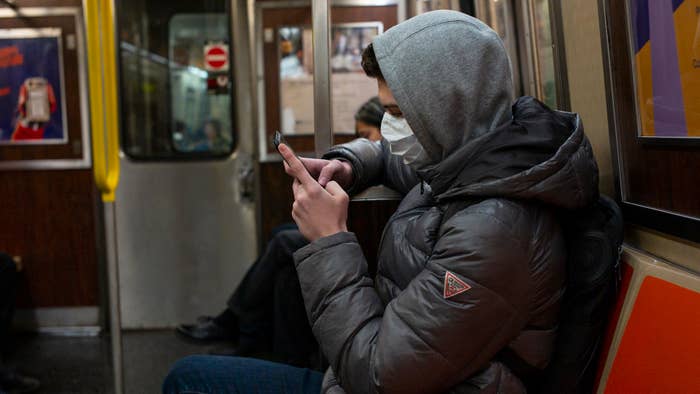 A new study shows that New York's COVID-19 outbreak largely originated in Europe.
The research indicates that the virus started circulating in New York by mid-February, prior to the state's first confirmed case on March 1—and that it was brought to the area by travelers who arrived from Europe, not Asia.
"The majority is clearly European," Harm van Bakel, a geneticist at Icahn School of Medicine at Mount Sinai, who co-wrote the study awaiting peer review told The New York Times.
A team from NYU Grossman School of Medicine came to similar conclusions on its own, even though it studied different cases. Both teams studied coronavirus genomes from New Yorkers beginning in mid-March.
"As viruses evolve during transmission from person to person, their sequences can help researchers to zero in on the provenance, or place of origin, of that specific infection," Dr. Matija Snuderl, leader of the clinical testing team and director of molecular pathology and diagnostics at Grossman, said in the announcement, per CNN.
What they found was "a previously hidden spread of the virus that might have been detected if aggressive testing programs had been put in place," the Times writes. On Jan. 31, Donald Trump prohibited foreign nationals from arriving in the U.S. if they had visited China two weeks prior.
Gov. Andrew Cuomo told the publication that the number of hospitalizations in New York state has dropped in recent days, implying that social distancing tactics were diminishing the virus' spread for the moment. However, he hasn't presented a date for when social gatherings can start again.
The U.S.'s top infectious disease expert, Dr. Anthony Fauci commented on the report's findings, telling Good Morning America that the data is "probably correct."
He continued, "Europe became the epicenter pretty quickly after China really exploded with their cases. We cut off the travel from China relatively early and we were seeded with a relatively few number of cases from China but very quickly the epicenter switched to Europe, particularly northern Italy.
"Given the travel and the air traffic from anywhere in Italy, but also particularly northern Italy, it's just not surprising that unfortunately and inadvertently New York was seeded before they really knew what was going on," Fauci explained. "And that's why they're in the difficult situation that they're in right now—a very unfortunate situation."