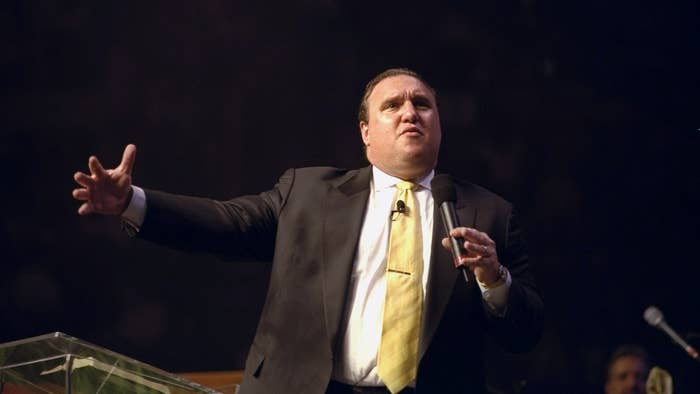 The controversial pastor of a megachurch, Rodney Howard-Browne has been arrested after disregarding coronavirus health guidelines.
Pastor Howard-Browne was charged with unlawful assembly and violation of public health rules after ignoring social distancing requirements at The River at Tampa Bay church, where he was still holding crowded church services, the Daily Beast reports.
Howard-Browne has been vocally against social distancing orders, alleging that he has machines at his church that can prevent COVID-19. He's also personally pledged to cure all of Florida.
"His reckless disregard for human life put hundreds of people in his congregation at risk, and thousands of residents who may interact with them this week, in danger," Hillsborough County Sheriff Chad Chronister said at the press conference.
Chronister previously notified the pastor that his church was breaking a county order against meetings of 10 or more people. Deputies even hung an electronic sign outside the church, advising parishioners to remain six feet apart from one another. However, Howard-Browne still hosted two services and even said he would provide buses to bring people to church.
"The only time the church will close is when the Rapture is taking place," he said this month, during a service. He's also encouraged parishioners to shake each other's hands as a way to show they aren't fearful of the virus.
Chronister added that he was especially confused by Howard-Browne because he could have livestreamed his service to his 4,000 parishioners.
Earlier this month, Missouri sued the televangelist Jim Bakker for soliciting a fake cure for coronavirus.