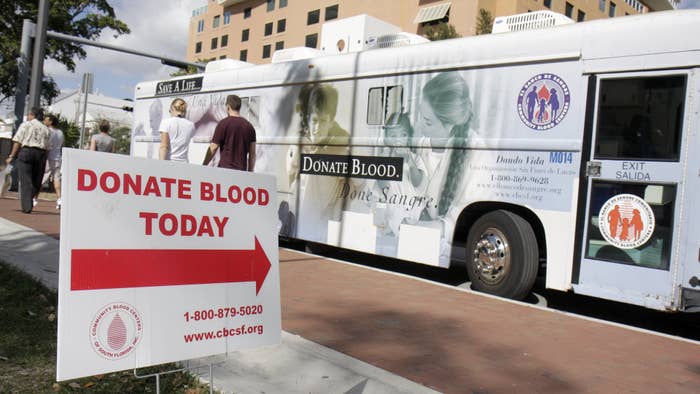 The Food and Drug Administration has revised its guidelines for blood donations from gay and bisexual men.
The New York Times reports that the federal agency will no longer bar gay and bisexual men from donating blood. Now, the FDA will ask all donors to share details about their recent sexual history in a form. Questions will include whether the potential donor has had sex with new or multiple partners, and anal sex in the last three months.
If a donor has had new or multiple partners, or anal sex in that time frame, then they will not be permitted to donate blood. People who are taking oral PrEP to avoid H.I.V. will also not be allowed to give blood.
In addition to the FDA's guidelines being condemned as discriminatory, there has been a shortage in blood donations; it seems like both prompted the revised guidelines. Blood donations declined during and after the pandemic because there were fewer blood drives at schools and offices.
Additionally, the new guidelines allow blood donation companies to utilize evidence-based protocol to diminish the chances of H.I.V. transmission while boosting donations.
"This shift toward individual donor assessments prioritizes the safety of America's blood supply while treating all donors with the fairness and respect they deserve," Kate Fry, the chief executive of America's Blood Centers, told the Times. The organization represents independent blood centers that provide 60 percent of the U.S.'s donations.