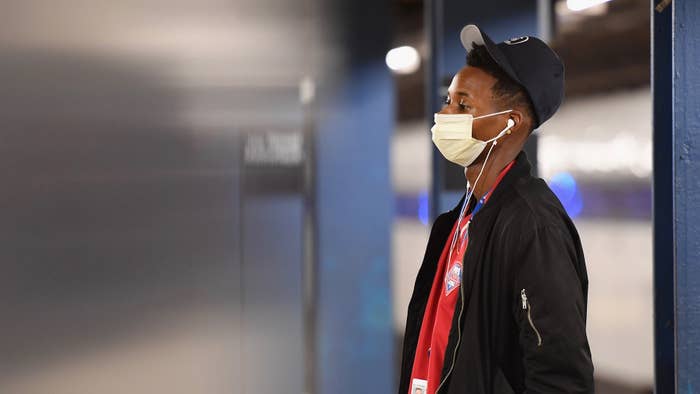 In response to the coronavirus pandemic, health officials around the world have proposed—or, in some cases, ordered—precautionary measures that would slow down the rate of transmission. Local governments have closed schools, employees have been instructed to work from home, and the population has been urged to avoid gatherings of 10 or more people. Though the measures have forced many businesses—including gyms, theaters, and restaurants—to close their doors, health officials insist the moves are vital to curb the spread of COVID-19.
There's no doubt that these protocols will increase in the days and weeks ahead, so in an effort to assist you through the crisis, we've assembled a quick breakdown of key phrases and terms related to these preventative practices.
Social Distancing
Two of the biggest challenges in the fight against coronavirus are its highly contagious nature as well the varying degrees of symptoms. According to the Centers for Disease Control and Prevention, the virus' incubation period—the time between exposure and the onset of symptoms—is anywhere between two to 14 days. This means that some infected individuals could be asymptomatic and unknowingly spread the disease to vulnerable populations, like the elderly or people with underlying medical conditions.
How can you be sure you're not contributing to the further spread of the disease? Practice social distancing.
This voluntary strategy is pretty straightforward: People increase the physical space between themselves and others whenever possible. The CDC recommends keeping a six-foot distance at work, school, and even the home, as a way to prevent infection from coughs and sneezes containing the virus. Of course, there are other ways COVID-19 can be transmitted, like touching a contaminated surface, but maintaining a safe distance from others can reduce the risks.
Dr. Asaf Bitton has shared a breakdown that outlines the way social distancing should be practiced—and it's not as easy as it sounds. The primary care physician says the strategy requires the cancellation of large gatherings, reducing the frequency of going to the grocery store and restaurants, as well as staying away from elders in your family and community. Bitton insists, however, that social distancing doesn't mean you have to cut off contact with the people in your life.
"Social distancing isn't some external concept that applies only to work and school. Social distancing is really extreme," Bitton told the New Yorker. "It is a concept that disconnects us physically from each other ... And it is very hard. We have all these built-in human needs and desires because we are social creatures who connect with each other ... But I want to really emphasize that social distancing is really about that physical separation. It is not—and, in fact, it won't work if it means—an actual disconnection socially from each other, which would have tremendous, tremendous effects pretty much on everybody, but especially kids and the elderly and other vulnerable populations."
If you're practicing social distancing, Bitton encourages you to communicate with friends and family through phone or video, as well as go outside for a walk or run while maintaining a safe distance from non-relatives.
Self-Quarantine
Self-quarantine is strictly reserved for those who have come into close contact with a coronavirus-infected person. This protocol requires the individual to restrict movement and to stay away from others throughout the incubation period— which, as we mentioned before, is up to 14 days. This primarily applies to those who may have contracted the disease but have yet to show any symptoms.
"Don't sleep in the same bedroom [with other family members], and try to use a separate toilet, if you can," Dr. Georges Benjamin, executive director of the American Public Health Association, told NPR. "Be careful with dishes. They should go right from you into the dishwasher."
The CDC states people should look out for symptoms like fever, cough, or shortness of breath. If the individual doesn't exhibit any symptoms at the end of the two-week quarantine, they may return to the less strict social distancing strategy.
Because we are social animals, self-quarantine can be very difficult for some. The Substance Abuse and Mental Health Services Administration recommends a number of coping methods for those under self-quarantine. These include meditation, prayer, deep breathing, and engaging in activities you can enjoy while in isolation. 
Shelter-in-Place
Unlike the aforementioned protocols, shelter-in-place is mandatory when decreed. As the coronavirus continues to spread, a number of cities have implemented shelter-in-place orders that drastically restrict the activities of residents. Six counties in the Bay Area implemented shelter-in-place on Monday, effectively prohibiting 6.7 million people from leaving their homes under most circumstances. As pointed out by USA Today, those living in San Francisco, Santa Clara, San Mateo, Marin, Contra Costa, and Alameda counties are banned from leaving their homes except for "essential" travel and activities.
"Because of the risk of the rapid spread of the virus, and the need to protect all members of the community and the Bay Area region, especially including our members most vulnerable to the virus and also health care providers," the order reads, "this Order requires all individuals anywhere in San Francisco to shelter in place—that is, stay at home—except for certain essential activities and work to provide essential business and government services or perform essential public infrastructure construction, including housing."
As of now, the order is in effect until 11:59 p.m. on April 7. Violation of the order can result in a misdemeanor charge, which is punishable by a fine and/or imprisonment.
New York City officials were previously considering implementing a shelter-in-place order, but Gov. Andrew Cuomo told reporters that the action didn't make sense for the city.
"We're very good at getting around the rules," Cuomo said Wednesday, as reportedCBS News. "You say shelter in place — if you stay in New York City, I'll go stay with my sister in Westchester, right? I'll go stay with a buddy in the neighboring suburb of Nassau. I don't think you can really do a policy like that just in one part of the state. So I don't think it works. As a matter of fact, I'm going so far that I don't even think you can do a state-wide policy."
Flattening the Curve
Whether it's social distancing, self-quarantining, or shelter-in-place orders, all of these protocols are intended to "flatten the curve." This phrase refers to the line on a chart that illustrates the rise and decline of coronavirus cases throughout the pandemic. A steep curve indicates a surge in confirmed cases within a short period of time, which would make it difficult for health providers to treat all patients in a timely manner.
Charles Bergquist, the director of the public radio show Science Friday, provided a great analogy for the term:
At this point, there is no vaccine or cure for COVID-19, which makes new infections inevitable. But the public can stabilize the number of cases—a.k.a. "flatten the curve"—by taking precautionary action and effectively save lives.