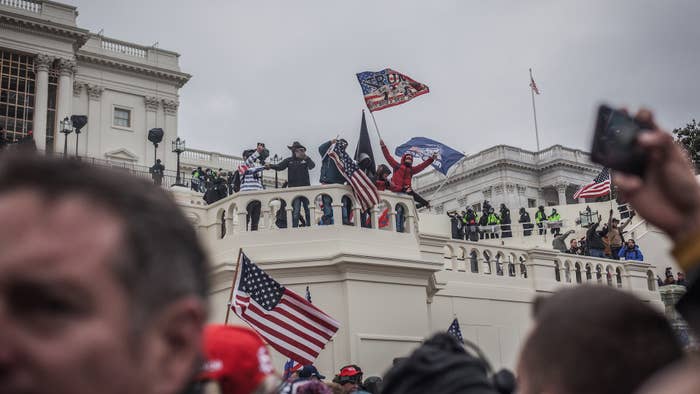 Another Proud Boys member has decided to flip.
Charles Donohoe, a leader of the far-right group's North Carolina chapter, pleaded guilty Friday to his alleged involvement in the Jan. 6 attack on the United States Capitol. The Department of Justice announced the 34-year-old defendant faces up to 28 years in prison on charges of conspiring to obstruct an official proceeding and assaulting Capitol police officers. As part of the plea deal, Donohoe has agreed to cooperate with the government's investigation into the riots. 
Prosecutors say Donohoe was among more than 100 Proud Boys who participated in the "Save America" rally in Washington, D.C., and was a key figure in organizing the group's presence at the pro-Trump demonstration. Donohue is accused of conspiring with fellow Proud Boys leaders to carry out an attack on the U.S. Capitol with the intention of overturning Joe Biden's presidential win.
"Donohoe believed that storming the Capitol would achieve the group's goal of stopping the government from carrying out the transfer of presidential power," the DOJ wrote. "Donohoe understood from discussions that the Proud Boys would pursue their objective through the use of force and violence."
Donohoe joins a handful of Proud Boys members who've pleaded guilty to Capitol riot charges. Five of his co-defendants—Ethan Nordean, Joseph Biggs, Zachary Rehl, Dominic Pezzola, and well-known leader Enrique Tarrio, have pleaded not guilty. Their trials are expected to begin in May.
Federal investigators say Donohoe was aware of Capitol attack plans as early as Jan. 4, and was involved in text message discussions about obstructing the certification of election results.
Per the DOJ's statement:
At approximately 1 p.m., the group arrived at the Capitol and began breaching the barriers surrounding the Capitol grounds. While in the West Plaza of the Capitol, Donohoe threw two water bottles at a line of law enforcement officers who were attempting to prevent the mob's advance in the West Plaza at the Capitol building. As events continued, Donohoe joined with a crowd, including other Proud Boys, to push forward to advance up the concrete stairs toward the Capitol. The crowd overwhelmed law enforcement officers on the stairs, continued toward the Capitol, and ultimately entered the Capitol building after Donohoe's co-defendant, Dominic Pezzola, allegedly broke open a window of the building.
Donohoe's sentencing date has not been announced.