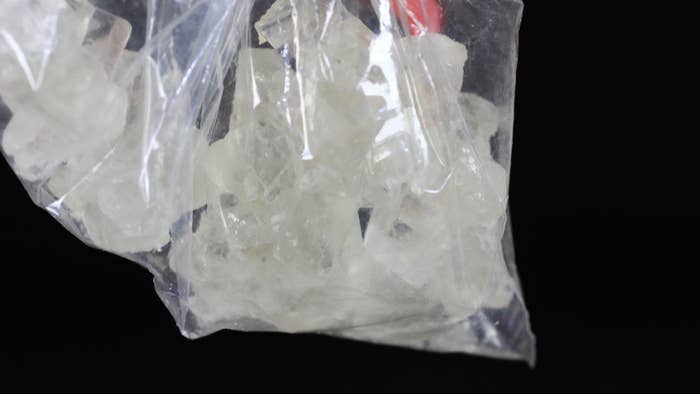 The Mexican military reportedly seized nearly 1.5 tons of methamphetamine headed toward the U.S. border.
According to the Associated Press, the seizure took place at a checkpoint in the northern state of Sonora, which is bounded by New Mexico and Arizona. The country's Defense Department said they conducted the search after receiving a tip about a truck transporting illegal substances to the border town of Tijuana.
Officials say the vehicle was also carrying powdered fruit juice concentrates as well as 46 drums that apparently contained more than 800,000 fentanyl pills. It's unclear who provided the tip, but the AP points out that Mexican drug cartels have a history of providing information about their rivals' drug shipments. 
News of the seizure comes just weeks after Mexican authorities confiscated around $230 million worth of fentanyl. The so-called "historic" raid was conducted at a warehouse in Culiacan, where law enforcement found up to 1,200 pounds of the synthetic drug. Ten men were arrested following the raid.
"This is the largest seizure in history of this lethal drug," Assistant Public Safety Secretary Ricardo Mejia said at the time.
Fentanyl is a synthetic opioid that is 50 times stronger than heroin. The CDC estimates there were more than 71,000 synthetic opioid-related deaths in the United States in 2021.
"A decade ago, we didn't even know about fentanyl, and now it's a national crisis," U.S. Attorney Randy Grossman said in a statement Friday. "The amount of fentanyl we are seizing at the border is staggering. The number of fentanyl seizures and fentanyl-related deaths in our district are unprecedented."