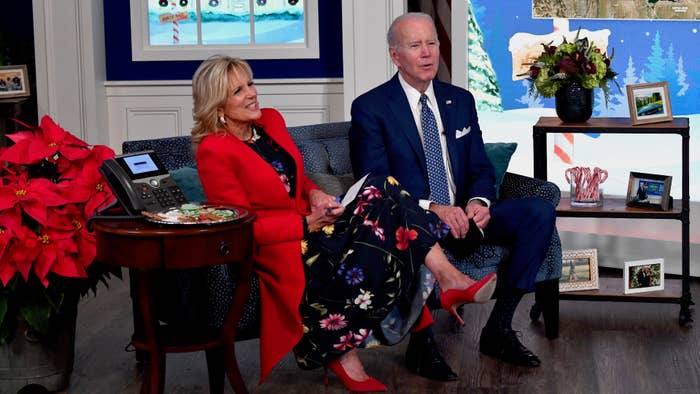 The first family brought some holiday cheer to hospitalized children and their families.
According to USA Today, President Joe Biden joined First Lady Jill Biden on a Christmas Eve visit to the National Children's Hospital in Washington, D.C. The White House says its a decades-long tradition for the first lady to visit the hospital around Christmas, but Biden's appearance marked the first time a sitting president participated in the annual event, which dates back to the Truman administration. 
The couple reportedly arrived at NCH at around 11 a.m. local time, and began chatting with some of the kids who were doing crafts in the atrium. At one point during the visit, POTUS took out his smartphone and began showing the children photos of his new dog.
"Do you know we just got a new dog?" the first lady asked the kids, according to the New York Post. "His name is Commander and this morning he was eating my slippers."
"15 weeks old," the president added, referring to the German shepherd's age.
The first family then took a seat next to the hospital's Christmas tree, where Jill Biden began reading Olaf's Night Before Christmas to a group of children. It's reported that the reading was also broadcasted in rooms throughout the facility.
CBS News reports the Bidens will celebrate Christmas at the White House along with their children and grandchildren. They are scheduled to attend Christmas Eve mass in D.C. before returning to the White House for dinner.