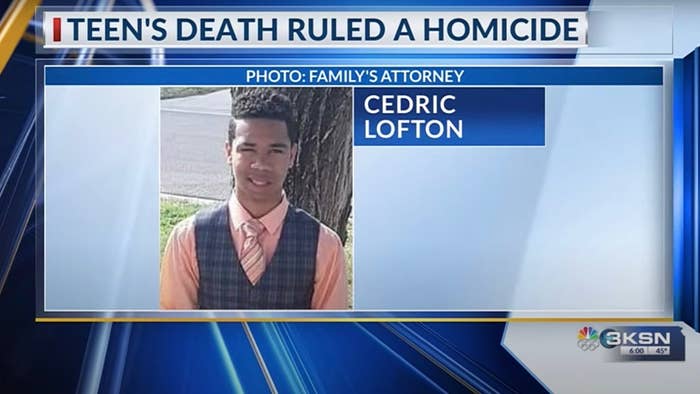 The death of Cedric Lofton, a Black teen who died while in police custody, has been ruled a homicide.
According to an autopsy report reviewed by the New York Times, the 17-year-old died from "complications of cardiopulmonary arrest," which he sustained after he was forced to lie facedown before being handcuffed. The report also states he suffered a brain injury, acute respiratory failure, and acute kidney injury.
"In my opinion, Cedric Lofton died as a result of complications of cardiopulmonary arrest sustained after physical struggle while restrained in the prone position," wrote chief medical examiner Dr. Timothy S. Gorrill. "The manner of death is homicide."
Lofton's foster parents called authorities Sept. 24, claiming the teen was acting "erratic and aggressive." When officers arrived, Lofton allegedly resisted police and assaulted at least one officer. He was then transferred to a juvenile center and placed in a cell at around 2:45 a.m. that day. Authorities say that around 4:20 a.m., the teen became "uncooperative and agitated" and assaulted a staffer at the facility. A struggle reportedly ensued and Lofton was placed in the prone position shortly before losing consciousness. He was then taken to a local hospital, where he died just two days later.
"You have an unarmed 135-pound teenager in custody that, without cause or provocation, is killed," said Andrew Stroth, a Chicago-based attorney representing Lofton's biological parents and his older brother. "The autopsy report is significant because it shows objective evidence about what happened."
The teen's family is now asking the Sedgwick County District Attorney's office to pursue criminal charges against law enforcement personnel who were involved in the death; this would include corrections employees who remain on paid administrative leave while the county investigates the incident.
This confirms our belief that Sedgwick County personnel at the Juvenile Intake and Assessment Center (JIAC) in Wichita killed Cedric.. As supported by the video evidence, these individuals unjustifiably and with excessive and unreasonable force pinned Cedric to the ground, ultimately killing the unarmed, 135-pound, 17-year-old African American teenager. Cedric's family anxiously awaits the findings of the criminal investigation and believes the Sedgwick County District Attorney should pursue criminal charges against the law enforcement personnel responsible for Cedric's death. Cedric's death was caused by the hands of the very authorities that were obligated to protect him and make sure he was safe. Instead, they killed him with conscious disregard for the young life in their keeping.
The DA's office says it will determine whether to pursue criminal charges next month. However, County DA Marc Bennett points out that homicide simply means someone intentionally did something that led to another individual's death; and just because it is listed as the "manner of death" an autopsy report, doesn't necessarily mean a crime occurred.