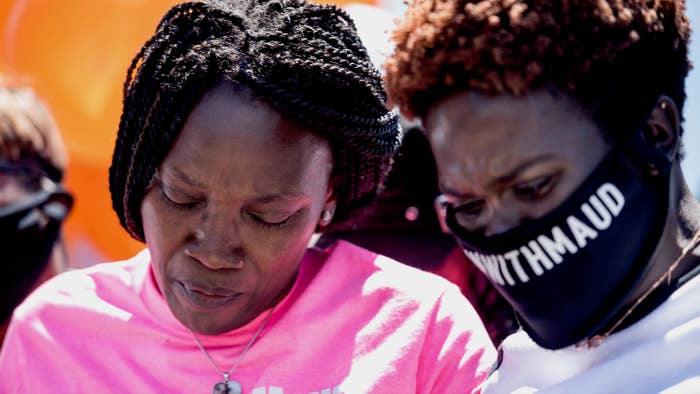 The mother of Ahmaud Arbery, the 25-year-old black man who was shot dead earlier this year, says she fully supports an-eye-for-an-eye type of justice. During an interview with TMZ on Tuesday, Wanda Cooper-Jones was asked what she believes is the appropriate punishment for the men who've been charged with murdering Arbery.
"I would like for all hands that were involved, that played a part in my son's murder, to be prosecuted to the highest," she said. "Coming from my point of view, my son died, so they should die, as well."
When further pressed about the possibility of a death sentence, Cooper-Jones flatly said she "would totally agree with" that decision.
Cooper-Jones previously told TMZ she wanted Gregory and Travis McMichael, the father and son who've been charged in Arbery's murder, to serve life sentences along with William "Roddie" Bryan, the man who filmed the deadly incident. 
Arbery was killed on Feb. 23 while jogging in the suburban neighborhood of Satilla Shores, Georgia. The case garnered nationwide media attention a couple of weeks ago, after a video showing Arbery's death surfaced online. At that time, Georgia authorities had not made any arrests in the case, as they argued the McMichaels were acting in self-defense when Arbery was shot.
The two men claimed they saw Arbery running in the residential area and believed he was a burglary suspect. They then decided to arm themselves with a handgun and a rifle and pursue the man in a pick-up truck. Video showed Travis McMichael getting into a physical altercation with Abrery in the middle of the road, before Travis fired fatal shots at the victim.
The viral footage triggered widespread outrage and increasing calls for justice. A Georgia district attorney later recommended the case be sent to a grand jury to determine whether the McMichaels should face criminal charges. The men were arrested for aggravated assault and murder last week.
The Georgia Bureau of Investigation have since confirmed they were investigating Bryan's role in the shooting. His attorney, Kevin Gough, told CNN his client was cooperating in the probe and insisted Bryan did not have a relationship with the McMichaels other than living in the same area. Gough said Bryan was working in his front yard when he saw the father and son chasing Arbery, which prompted him to get in his car and begin recording. 
"Mr. Bryan videotaped what was going on and because he did that there is a prosecution," Gough said. "If he had not videotaped that incident, the only person who really could speak to what happened is dead and we'll never have that opportunity. That video is the prosecution."
Glynn County Police Lt. Cheri Bashlor told CNN there were no burglary reports in the area at the time of Arbery's shooting. Newly released video appears to show Arbery entering a construction site shortly before his death; however, the family who owns the property has since released a statement insisting they had nothing to do with shooting death nor did they have a relationship with the McMichaels.
"I spoke with the homeowner," Lee Merritt, the Arbery family's attorney, told WSB-TV. "He said he had no problem with it, he never complained about it concerning Ahmaud. He didn't suspect Ahmaud of anything criminal. He received notification when Ahmaud entered his home. People enter his home all the time because it is a popular running route and a seashore home under construction."