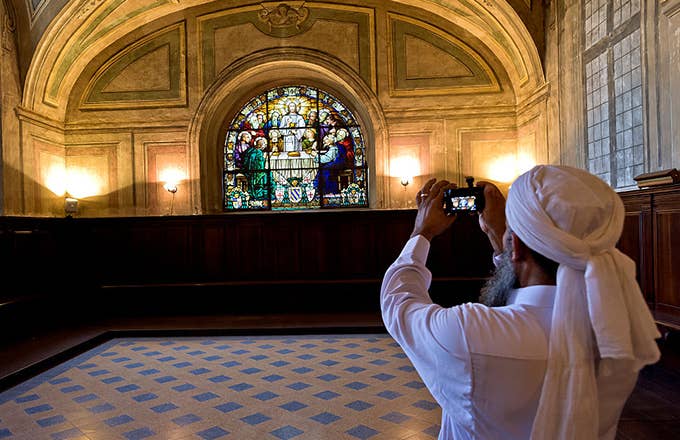 A group of California-based mosques received a threatening letter from a Donald Trump supporter, Reuters reports. The Council on American-Islamic Relations has requested increased police protection for local area mosques after the handwritten note was delivered to the Islamic Center of Long Beach, the Islamic Center of Claremont, and the Evergreen Islamic Center in San Jose.
The handwritten letter, which was photocopied and then distributed, referred to Muslims as "vile and filthy people," and claimed that Trump, a.k.a. the "new sheriff in town," is going to "cleanse America and make it shine again" by starting with Muslims. The letter was addressed to "the children of Satan."
The letter, which circled this past Wednesday, was sent anonymously, signed only by someone who claimed to represent "Americans for a Better Way." Hussam Ayloush, executive director of the Los Angeles chapter of the Council on American-Islamic Relations, said that the letter has made the congregants of the affected mosques "fearful," and that his organization was considering lobbying the FBI to investigate the matter further. 
The incident is just the latest example of the rise of hate crimes in the county since Donald Trump's stunning election victory. "You always want to trust that most people are good, that your neighbors have been good, and that has been our experience," Ayloush told Reuters, adding that while he doesn't believe Trump "created racist people," he does feel that Trump's incendiary campaign created "a level of vulgarity, vile hatred and anger among many self-proclaimed Trump supporters."
"He normalized it," Ayloush added. "While he might say he's not responsible, and I respect that, I remind President-elect Trump that he has a responsibility to act as a president for all Americans."