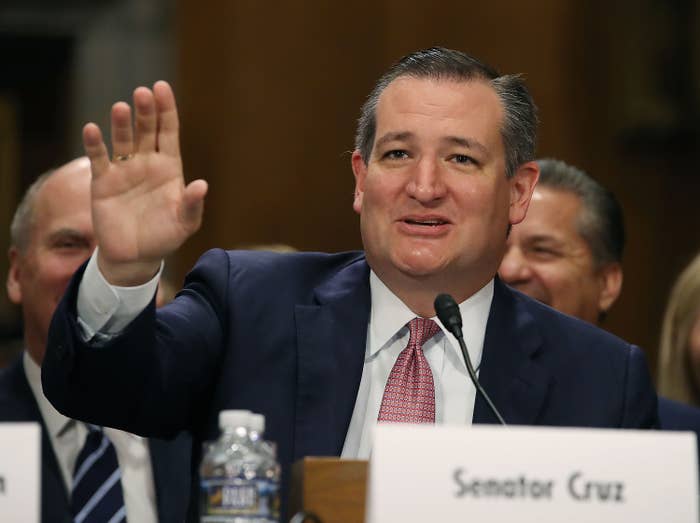 UPDATED, 9/12/17, 11:00 a.m. ET:
Sen. Ted Cruz has responded to the controversy he caused when he "liked" a NSFW video on Twitter on Monday night. On Tuesday morning, he claimed one of his staff members was responsible for it, though he declined to name the staff member or to say whether or not he or she would be punished for what happened. Here is what Cruz told reporters, according to Washington Post reporter Ed O'Keefe.
See original story below.
Sen. Ted Cruz is going to have a lot of explaining to do on Tuesday morning.
On Monday night, Cruz's name started trending on Twitter, and it was for one of the most ridiculous reasons imaginable. Right around midnight, Cruz—or whoever was manning Cruz's account after hours—got caught "liking" an extremely NSFW video on Twitter. The video in question was sent out by the Twitter account @SexuallPosts, and it featured two people having sex on a couch while a woman watched. The "like" was removed almost immediately, but unfortunately for Cruz, it wasn't taken down fast enough, as more than a few people took screengrabs of the seemingly unintentional "like" and shared them on the social media site.
Cruz didn't attempt to explain how his account ended up "liking" the video. But his communications adviser Catherine Frazier addressed it in a tweet she sent out shortly after 3 a.m. ET on Tuesday.
But that didn't stop, well, everyone from going in on Cruz for "liking" the video. As of early Tuesday morning, Cruz's name was the top trending topic on Twitter with thousands of people reacting to the news about what he did.
Many people are also speculating about how Cruz will eventually explain himself. There is a running list of excuses circulating online at the moment.
And while Cruz's social media team is likely losing its collective mind right now, the social media team at @SexuallPosts is clearly going to milk this thing for all it's worth. They have already changed their bio to include "Follow for the Same Porn @TedCruz Watches."
Unfortunately for Cruz, there's no easy way out of this. As former Knicks head coach Kurt Rambis discovered in early 2016, there is just about no excuse that will get you off the hook when you get caught "liking" a NSFW tweet. So Cruz better hope and pray that something crazier than what he just did takes place on Twitter on Tuesday. Otherwise, the former Presidential candidate is in for a looooooong day. Good luck getting yourself out of this one, man.