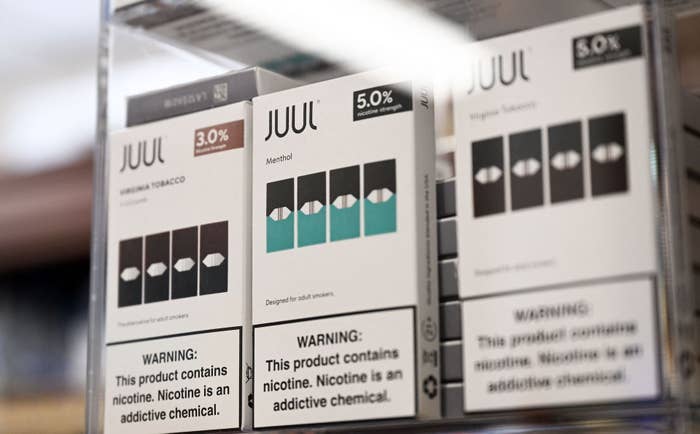 Juul has agreed to pay nearly $440 million to settle an investigation by dozens of states into the company's marketing of its e-cigarette products, which have been blamed for an increase in vaping among teenagers across the U.S. 
As reported by the Associated Press, Juul has agreed to pay $438.5 million in a settlement following a two-year investigation led by Connecticut, Texas, and Oregon. The company is required to pay out the amount over a period of six to 10 years. 
In a statement announcing the result on Tuesday, Connecticut Attorney General William Tong accused Juul's "cynically calculated advertising campaigns" of fueling a "new generation of nicotine addicts." 
"They [Juul] relentlessly marketed vaping products to underage youth, manipulated their chemical composition to be palatable to inexperienced users, employed an inadequate age verification process, and misled consumers about the nicotine content and addictiveness of its products," the AG wrote. "The full public health ramifications of this misconduct are yet unknown. Through this settlement, we have secured hundreds of millions of dollars to help reduce nicotine use and forced JUUL to accept a series of strict injunctive terms to end youth marketing and crack down on underage sales."
Besides Connecticut, Texas, and Oregon, the other states involved in the settlement include Alabama, Arkansas, Delaware, Georgia, Hawaii, Idaho, Indiana, Kansas, Kentucky, Maryland, Maine, Mississippi, Montana, North Dakota, Nebraska, New Hampshire, New Jersey, Nevada, Ohio, Oklahoma, Puerto Rico, Rhode Island, South Carolina, South Dakota, Tennessee, Utah, Virginia, Vermont, Wisconsin, and Wyoming. 
Juul issued a statement following the news, saying the company plans to continue its "mission" of pivoting smokers away from cigarettes. 
"We remain focused on our future as we fulfill our mission to transition adult smokers away from cigarettes—the number one cause of preventable death—while combating underage use," the company stated.
The news comes nearly three months after the Food and Drug Administration made moves to ban Juul products from being sold in the U.S. Back in June, the FDA "issued marketing denial orders" to Juul, ruling that stores are no longer permitted to sell Juul's device or pods, and must remove stocked items.
In July, the FDA suspended its ban of Juul e-cigarettes as the company appealed the decision, while accusing the former of making the ruling based on political pressure. 
"We remain confident in the quality and substance of our applications and believe that ultimately we will be able to demonstrate that our products do in fact meet the statutory standard of being appropriate for the protection of the public health," Juul's chief regulatory officer Joe Murillo said in a statement provided to the Wall Street Journal.