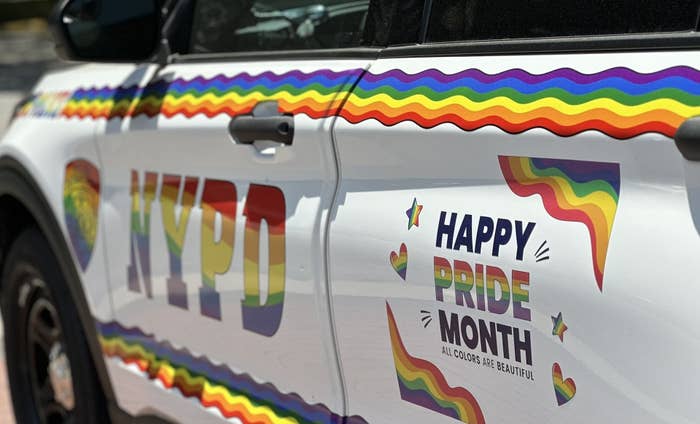 The NYPD is being mocked after social media sleuths pointed out that the department's pride-themed police car may include the anti-cop acronym ACAB.
NYPD Commissioner Keechant Sewell took to Twitter on Friday to celebrate pride month, posting a picture of a police cruiser that's decked out in a rainbow flag. People on social media noticed that the design may in fact include an anti-police reference.
"All Colors Are Beautiful" is printed on the vechicle, which, is shares the same acronym as the anti-cop phrase "All Cops Are Bastards."
"Over the years, @GOALny [Gay Officers Action League NY] has demonstrated unwavering commitment to promoting universal acceptance and inclusion for all members of the LGBTQIA+ community," Sewell's account wrote on Twitter. "Their remarkable contributions to this city and the department defines New York's Finest."
Although the NYPD has yet to acknowledge the matter, one gay police officer spoke with the New York Post about the situation.
"That's the NYPD," the police officer said. "'Let's rush and decorate a car because it's pride month.
"The NYPD pretends to care so much about its LGBTQIA+ members, yet the LGBTQIA+ community is barely offered equal treatment and opportunities as everyone else," the cop added.
"We barely see any LGBTQIA+ officers receiving discretionary promotions or offered prestigious positions within the NYPD as everyone else. The NYPD every year rushes to decorate precincts and police cars with rainbow flags and colors to show the public that they care for the LGBTQIA+ community but this time it backfired."