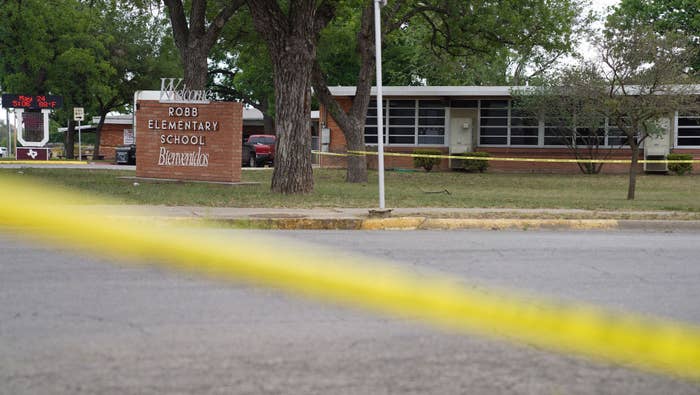 On Tuesday, an 18-year-old gunman opened fire on students and faculty at Robb Elementary School in Uvalde, Texas, killing 19 children and two teachers.
The perpetrator, Salvador Ramos, also wounded 16 others before he was shot and killed by a border agent. Uvalde is reeling in the aftermath of the second-deadliest school shooting in U.S. history, and there are many ways to help those impacted.
Among those to offer their condolences to victims were Joe Biden, LeBron James, and Chris Evans. "These kinds of mass shootings rarely happen elsewhere in the world," said President Biden on Tuesday. "Why are we willing to live with this carnage? Why do we keep letting this happen? Where in God's name is our backbone to have the courage to deal with it? It's time to turn this pain into action."
A variety of efforts have already launched to help provide support. Two funeral homes near the school, Hillcrest Memorial Funeral Home and Rushing-Estes-Knowles Mortuary, announced on social media that they will not charge families of victims for funeral services. There are also ways you can directly help; read more on those below.
A number of verified GoFundMe campaigns have been launched to help the families of victims, and the crowdfunding platform has put together a hub rounding those up.
Among the organizations raising money for the families is Victims First, a network of those directly impacted by previous mass shootings across the United States. "The GoFundMe community is coming together to support all those affected," their page reads. "Our Trust & Safety team will continue to update this hub with more fundraisers as they are verified. Donate to verified Texas elementary school shooting fundraisers below to offer your help."
That one set a $100,000 initial goal, which has been adjusted to $5,500,000, as it is currently closing in on $5,026,800 raised via over 70,000 contributors; donate to any of the highlighted fundraisers here.
Another campaign was launched by the Los Verdes Supporter Group in Austin. "Our thoughts and prayers are with all those affected by this event, and we are actively working with the city council members of Uvalde on making sure these donations go directly to those families," reads the page. 
Some families have elected to seek money for funerals or medical costs. Of the nearly $1.2 million requested in 25 separate fundraisers for individuals impacted by the tragedy, families have seen donations surpassing a total of $5.7 million. Also included is a GoFundMe for 10-year-old student Xavier Lopez launched by his cousin. That campaign has raised nearly $125,000, while a more recently launched campaign for funeral funds for Jayce Carmelo Luevanos has also been set-up.
Other fundraisers include one for survivor Miah Cerrillo, whose mother Abigale Veloz says she needs assistance with medical expenses related to a bullet fragment that hit her daughter's back. The child, who was watching Lilo and Stitch with her classmates, told CNN that she smeared her classmate's blood on herself to avoid being noticed as she played dead. Over 11,000 donations have left the family with $438,885, a large sum compared to their requested $10,000 goal.
A fundraiser for Eliahna Garcia, who was nearing her 10th birthday and was killed in the shooting, has raised $129,557 of its $50,000 goal thanks to over 2,600 donations. "Eliahna was such a sweet girl with a lovely and beautiful soul," the page reads. "She would light up everyone's world with big smiles & big hugs."
Teacher Irma Garcia, who was one of the two adults killed in the shooting, had a GoFundMe for funeral expenses launched by the Martinez family. After her passing, her husband Joe died of a heart attack two days later. In total, donations for the late couple and their four children have surpassed $2.7 million. "She sacrificed herself protecting the kids in her classroom," their nephew wrote. "She was a hero. She was loved by many and will truly be missed. Funds will be given to help the family for needs and funeral expenses."
In the immediate aftermath of the shooting, emergency blood drives have been set up in Texas. South Texas Blood and Tissue announced on Tuesday that it's hosting an emergency blood drive at the Herby Ham Activity Center on Wednesday, May 25. While walk-ins are welcome, people can book appointments to donate blood here.
University Health in San Antonio has also encouraged people to donate blood.
Per the San Antonio Legal Services Association in a post on Facebook, the Uvalde community is seeking attorneys licensed in the state of Texas to volunteer to help the legal efforts of the families. 
"Volunteer NOW to assist Uvalde Shooting Victims and Families with Unmet Legal Needs," the post reads. "SALSA will respond with pro bono assistance as called upon to do so by community partners and civil leaders over the coming weeks."
Those with the qualifications have been asked to email the organization at UvaldeResponse@sa-lsa.org with their availabilities through June.