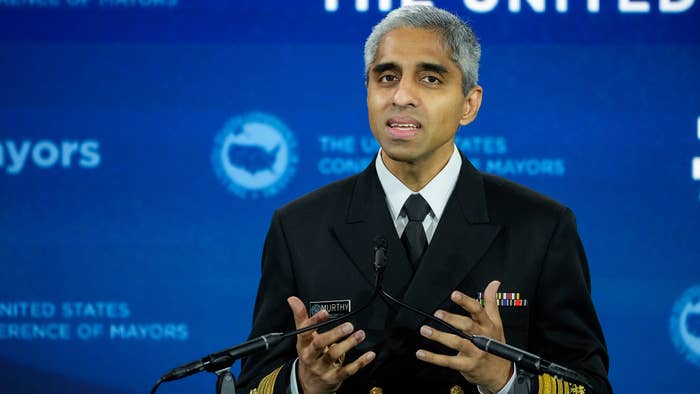 In a 19-page advisory released on Tuesday, United States Surgeon General Dr. Vivek Murthy cautioned that social media can pose a "profound risk" to today's youth.
"Nearly every teenager in America uses social media, and yet we do not have enough evidence to conclude that it is sufficiently safe for them," reads the advisory. "Our children have become unknowing participants in a decades-long experiment. It is critical that independent researchers and technology companies work together to rapidly advance our understanding of the impact of social media on children and adolescents."
The warning is aimed at letting parents know that the impacts of social media on youth remain unclear, especially as platforms continue to evolve and new ones emerge. Children, especially teenagers, are more impressionable than adults, and the advisory cautions that kids are most at risk when "identities and sense of self-worth are forming." Research shows that approximately 95 percent of children aged between 13-17 use a social media platform, and as many as a third of them use such platforms "almost constantly."
"There are ample indicators that social media can also have a profound risk of harm to the mental health and well-being of children and adolescents," wrote Murthy, who has recommended that families implement times of day in which children aren't allowed to use their phones or tablets to access social media.
The advisory additionally pointed out that early research into the subject has shown social media exposure is linked to eating disorders, body dysmorphia, low self-esteem, and even ADHD. The nation's top health official wrote that some content on social media is also considered "extreme, inappropriate and harmful," and can often include material that "can normalize" self-harm or other harmful behavior.
In an interview with The New York Times, Murthy acknowledged that it's tough for families to be fully aware of what their children get up to online. "That's a lot to ask of parents, to take a new technology that's rapidly evolving and that fundamentally changes how kids perceive themselves," Dr. Murthy said. "So we've got to do what we do in other areas where we have product safety issues, which is to set in place safety standards that parents can rely on, that are actually enforced."